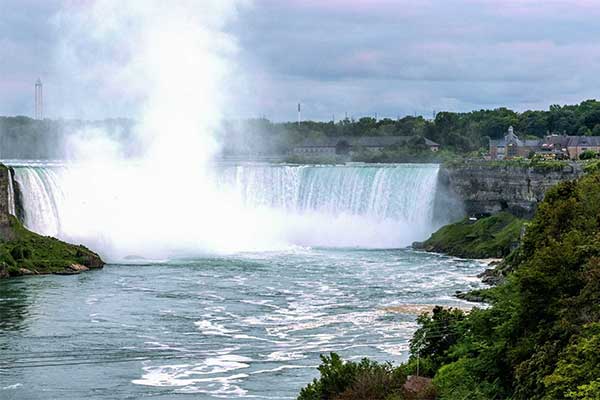 Discovered in 1678, officially recognized as a national attraction in 1812, representing Ontario, Canada, in the northeastern corner, coming in with a length of 1060 feet, standing at 176 feet, with 150 000 gallons of water: Niagara Falls! I hope you read that with Michael Buffer's voice in mind. 
With those numbers, you'd think that Niagara Falls would be included on the list of the 7 wonders of the world. Surprisingly, it's not. Attracting over 8 million visitors in a year, the people who've seen it leave awe-struck. At least Niagara Falls is considered the number 1 wonder of Canada.
Besides The Falls, there is plenty to do and see in the city of Niagara Falls. If you've been before and are wondering what you can do on your next visit, or if it'll be your first time and you're looking for great family activities, you'll be glad to know that there is something exciting to do during all the seasons.
Keep reading to find out the best things to do in Niagara Falls, broken down by seasons. 
Things To Do In Niagara Falls
You won't be spending much time there, but Niagara Falls hotels range from classic 5 stars to cost-efficient motels. You've arrived, taken a quick nap, now it's time to head out and enjoy the Niagara Falls weather while having a wonderful time enjoying the town. 
Winter
Butterfly Conservatory
Something like The Niagara Falls aquarium, but for butterflies. Located along the Niagara Parkway, The Butterfly Conservatory is a beautiful place during all seasons, but during the winter, it's a great place to stay warm. Home to nearly 2000 butterflies fluttering around an enclosed glass conservatory with waterfalls and tropical plants. There are over 40 different types of butterfly species.
Festival of Lights 
If you go to Niagara Falls during the winter, then you don't it being cold. The Festival of Lights is a special event that typically runs from November 20 to the end of December. The city is lit up with 2 million sparkling lights and carries for 8km through several parks and the downtown region of Niagara Falls. You can walk or drive around, and it'll be a spectacular chance to see Niagara Falls at night. 
Spring
Taste of Niagara on the Lake 
This is your chance to taste all the specialty foods and wines that Niagara has to offer. This event also serves as a tour: you'll be taken to 5 wineries and 4 gourmet restaurants. After attending Taste of Niagara on the Lake you might consider yourself a connoisseur. This event isn't public, so you'll need to purchase tickets. There are 3 springtime weekends to choose from. 
Niagara Parks' Botanical Gardens 
Spring is the perfect time to visit the Botanical Gardens just as all the lovely flowers begin to bloom. There are 99 acres to walk through and see magnificent perennials, rhododendrons, azaleas, herb and vegetable plants, and their world-renowned rose garden with 2400 roses. It's also free.
Summer 
Clifton Hill 
Probably the most well-known section of Niagara Falls, you'll be able to get your daily step goal in no time. On your way down to The Falls, you'll be able to get ice cream, cotton candy, fudge, visit restaurants, and all the cool attractions made for the entire family. Try Dinosaur Adventure (mini) Golf, or The Great Canadian Midway, an arcade with 300 games, it's like a typical Niagara Falls casino but for the whole family. 
Niagara Hornblower Cruise 
Another must-do while in Niagara Falls during the summer. The Hornblower takes you up close and personal with both the American Falls and The Horseshoe Falls. In your bright red poncho, you'll keep your clothes dry as you start to feel the sprays from the barreling falls. That's how close you'll get. If you're looking to cool down, surely this will get the job done. 
Niagara Speedway 
Now is your chance to feel like 7-time world champion Lewis Hamilton. Spread out over 4 acres, with a 2000 foot multistory track you'll be flying down straights, maneuvering hairpin turns, feeling like an F1 driver for sure. Don't worry it's completely safe, the speed of each cart maxes out at 32k/h but relatively speaking that's quite speedy.  
Helicopter Tour
Seeing Niagara Falls from the Skywheel is one thing but seeing it from a helicopter is something totally different. During this 12 minute ride, you'll get a birds-eye view of the Horseshoe Falls, the American Falls, Rainbow Bridge, and Queen Victoria Park. You don't need to book in advance, and wait times aren't long, but call ahead to make sure the weather is appropriate. Not a lot of people can say they've been in a helicopter. 
Fall
Niagara Parks' Power Station
One of Niagara's newest attractions but one of its oldest landmarks, the Power Station served as the biggest power plant in the region from 1905 to 2006. Now, this romanesque type building has been restored to be somewhat of a museum with immersive exhibits, unique artifacts, and interesting stories. In the evening there is 'Niagara's Power Transformed' a spectacle with fun lights and funky music.
White Water Walk 
This is the best trail to view all the new fall colors while walking along the Niagara River. Not many people know to do the White Water Walk so the trail is not crowded. It's quite peaceful and you'll normally hear the wind through the trees or the crashing river rapids. This experience shuts down around the start of November so it certainly is the best fall experience. 
And Plenty More
For such a small city there are plenty of things to do in Niagara Falls. With so many attractions packed inside, you'll find more than 10 things for each season, but this guide was for what you must do.
With that being said, Niagara Falls is just one beautiful place inside 'Yours To Discover' Ontario, so when you're done there continue sightseeing all over the great Province. For information on all the other regions in Ontario, events taking place, various packages, and 'getaway' experiences visit our website and contact us, all these cool locations are waiting.