It is with great excitement that we announce the formal partnership between Yours Outdoors and Haliburton Forest. This partnership between two award‐winning businesses will provide and promote the very best tourism opportunities available in the Haliburton Highlands, to travellers from near and far.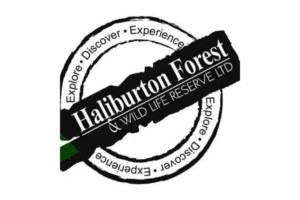 Yours Outdoors was founded by Barrie Martin in 2006 and has grown exponentially to feature events and experiences in every corner of the Haliburton Highlands. Martin excels in creating
connections, highlighting the beauty and wonder of the area, and offering off‐the‐beaten‐path experiences.
Haliburton Forest boasts 100,000 acres of experiences; with everything from hikes through the treetops to howling with wolves. Though these companies have historically operated separately,
they have always shared the common goal of highlighting and celebrating the Haliburton Highlands, and everything the places and the people have to offer.
This common goal has been reflected over the years with mutual recognition: Martin was named Tourism Champion of the Year in 2016 and received the Sustainable Tourism Award in
2017 from the Ontario Tourism Industry Association, while Haliburton Forest received the latter award in 2018.
As manager and founder of Yours Outdoors, Barrie Martin will join the Tourism & Recreation division of Haliburton Forest, alongside Tegan Legge, the General Manager, and Cameron Ferguson,
the Operations Manager.
Yours Outdoors and Haliburton Forest are excited to welcome Emily Stonehouse to this new partnership. She will lead the marketing and promotions for Haliburton Forest, and serve as comanager of Yours Outdoors. Stonehouse has spent the past two years working in municipal economic development, and has a passion for connecting with local experience providers, and
bringing the experiences of the Haliburton Highlands to life.
Yours Outdoors will maintain its distinctive brand and products, will continue working independently with local tourism partners/providers and experience leaders, while working with
Haliburton Forest to further develop authentic rural experiences.
After a decade of working side‐by‐side to bring these experiences to life, Haliburton Forest and Yours Outdoors are excited to formalize their partnership. Beyond the natural growth this partnership will provide for both companies, other benefits include but are not limited to:
• Helping to build the County and region as a premiere tourism destination.
• Increased capacity and leadership for marketing, partnership, product and community
development.
• Greater ability to respond to specific client needs through custom packages and experiences.
• Increased community outreach and engagement throughout the Haliburton Highlands.
• Broader range of services and experiences to offer domestic and international markets.
• Business efficiencies with integration of operations and processes.
In this ever‐changing world, we believe that strong partnerships are the key to success. Haliburton Forest and Yours Outdoors are dedicated to bringing energy, transparency, growth,
and development to all experiences offered in the Haliburton Highlands, and are excited to navigate this new chapter as partners.
"The partnership between Haliburton Forest and Yours Outdoors is a business and a social mission all in one, to work with our stakeholders ‐ and especially experience delivery staff ‐ to grow
the tourism economy of the Haliburton Highlands" notes Malcolm Cockwell, Managing Director of Haliburton Forest
Media Contacts:
• Tegan Legge at Haliburton Forest ‐ [email protected] 705‐754‐2198
• Barrie Martin at Yours Outdoors ‐ [email protected] 705‐754‐3436
Website
• Haliburton Forest ‐ https://www.haliburtonforest.com/
• Yours Outdoors ‐ https://www.yoursoutdoors.ca/
‐ 30 ‐