Currently closed due to Ontario provincial shutdown and lockdown in effect. 
Canada's First Multi-Level Drive Through Experience, Runs November 27 to January 3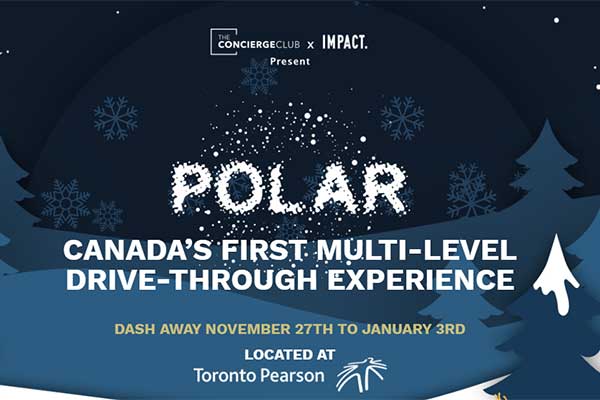 November 26, 2020 — Toronto, ON — Two of Toronto's premiere experiential event agencies, The Concierge Club and Impact XM, team up to bust the pandemic blues with the highly-anticipated Polar Drive. The only multi-level drive through Holiday experience is contactless and covid-safe. Polar brings guests into a magical world featuring six dazzling levels of decor. Kids will get the chance to see Santa as he spreads Holiday cheer to all who pass by! The breathtaking experience is staged at the Toronto Pearson Parkade (6145 Viscount Road), which has been closed since the pandemic began. Polar will run from January 27, 2020 to January 3, 2021 – rain, snow or shine. Tickets for the scheduled drive-throughs are available at www.polar-drive.com.
"We have a team of world-class event producers who normally do prestige events for various clients, from luxury brands to the Bieber family," says Monica Gomez, President and Founder of The Concierge Club, and the creative force behind Polar. "The pandemic has been very hard on everyone. People just want to celebrate the holidays, see Santa, and experience the wonder of the season – safely of course. That was the inspiration behind this event. It was all about creating an unforgettable holiday experience to give people a break from life in lockdown. This marks the first time we've produced our own signature event for the general public, and we're very excited to bring Holiday joy!"
Discover Polar Drive's Holiday Themed Worlds
All guests must remain in their vehicles, where they can listen to festive music on Polar Radio FM 90.9 as they drive through. Guests are welcome to photograph, video and share the photo-friendly Holiday environments (@polar_drive and #PolarDriveTO). Theatrical staging transports guests into three larger-than-life festive worlds connected by massive, 300-foot-long sparkling tunnels, featuring thousands of LED lights.
The first light tunnel with blue and white chasing lights leads to a magical winter wonderland. This snowy white world features icicles, trees, snow, reindeer sculptures and decorations encrusted in white lights. Next a sparkling crystal cave tunnel takes you to see the real Santa! This world features the traditional colours, textures and decor icons of Christmas. Think garlands, Christmas trees, nut-cracker soldiers, and a sleigh! Then proceed through a shimmering tunnel of gold lights that leads to the grand finale – a dazzling, golden Holiday world, glittering with lights and the visual splendour of the season.
"The decor is just like what you'd find at one of our prestige Holiday events – only much, much, more," says Ms. Gomez. "We have thousands of lights, hundreds of trees and we've used the same snow that's used in the movies! It looks very authentic. When you add in the special lighting effects, the entire experience really is magical. It will definitely get you into the Holiday spirit!"
Polar Drive: Supporting Tree Canada
The Concierge Club works with Tree Canada as its cause partner to help offset the impact of its events. The Concierge Club will support Tree Canada's carbon compensation program which plants mass seedlings nationally.
Covid Safety
Polar Drive is a covid-safe event that is permitted under Ontario's grey zone lockdown government guidelines. During this contactless experience, guests are encouraged to follow the pandemic protocols laid out by the provincial and local governments. This is a drive-through event, and guests must remain in their vehicles to maintain proper distancing.
Tickets
Tickets are available at www.polar-drive.com where guests can view the calendar of all available time slots. Ticket-takers will use scanners to remain contactless. Tickets are $55 for weekdays (Monday-Thursday), and $65 for weekends (Friday-Sunday). The event is produced and presented by partners, The Concierge Club and Impact XM, and takes place at the Toronto Pearson Parkade.
About The Concierge Club
The Concierge Club is known for being the go-to agency for premium experiential marketing and events. The agency is an event industry leader that has worked with the world's top brands, such as LVMH, Sephora, Arterra, HP, and many more. Visit theconciergeclub.ca for more information.
About ImpactXM
Impact XM helps leading brands tell their story through experiences that drive customer loyalty. Proprietary events and meetings provide a platform for focused brand interaction, creating an emotional connection, and deepening brand loyalty. Visit impact-xm.com for more information.
-30-
Visual assets are available here. Additional assets will be added by Monday November 30.
Social Media: @polar_drive and #PolarDriveTO
For more information, please contact NEAT Agency:
David Weinstein, [email protected], 416 553 9454
Anne Morello, [email protected], 647 224 2806  
Tara McCarthy, [email protected], 416 732 1929