The vastness and rustic beauty of Ontario and its small wedding venues will blow you away. There are so many options for you to choose from that you might be a bit overwhelmed. 
If your wedding plans need more room, space and services check out the full list of ToDoOntario wedding venues here. Otherwise, keep on reading!
But the research you will do for your special day will be well worth it. Since the average Canadian wedding has around 120 people, these small wedding venues will be ideal for you to host your nuptials. 
That's why we have created this list for you, so you will be able to see the top choices for wedding venues in Ontario, for a small-ish wedding. Read on to see which top Ontario wedding venue piques your interest. 
Ontario Has Venues for Both Indoor and Outdoor Weddings
Depending on your preference and the season that your wedding is going to be taking place in, you might opt for an indoor or an outdoor wedding. Either way, Ontario is filled with great options for both kinds of weddings.
Remember that with the COVID-19 pandemic of 2020, there are restrictions on the number of people that can gather for events such as weddings. In Ontario, an event can be held with 50 people inside, and 100 people outside. 
As long as you follow the safety regulations (social distancing, masks to be worn indoors, etc.) dictated by the province, surely your wedding will be a success and a half.
Interestingly enough, Premier Doug Ford is all for people enjoying their special day in full festivities. He doesn't want to restrict the happy couple and their nuptials too much. But the rules are in place to protect us all.
So that you don't end up with a fine on your special day, ensure that you choose one of these small wedding venues and keep your special day intimate. This way you can still enjoy the process of getting hitched without being in trouble for it.
In reality, you probably only care about having a few close relatives and friends around for your big day. Right?
MacLaren Art Centre
Offering a twist of modern and traditional charm, the award-winning MacLaren Art Centre is the perfect venue for those seeking a distinctive backdrop for their ceremony or reception. This architectural landmark combines a renovated 1917 Carnegie library with a contemporary addition designed by Siamak Hariri of Hariri Pontarini Architects. Personalized décor can transform the venue into your dream space, while highlighting the building's impressive architecture and natural elegance.
Voyageur Quest in Algonquin Park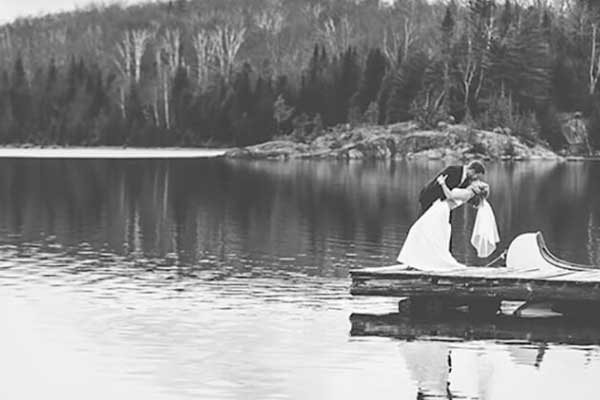 If you've always dreamed about having your wedding in a rustic cabin somewhere in the woods, then Voyageur Quest is for you. There are 4 unique wilderness cabins that you can rent at this venue for a truly intimate wedding. 
Each cabin has a different view, one with a lake view, another overlooking the forest, and also an island retreat. There's something for everyone here. 
Haliburton Forest & Wild Life Reserve Ltd
Haliburton Forest is 100,000 acres, which has 100 lakes and millions of trees. In short, it's an outdoor lover's paradise. It has a research center and an education center.
With a sustainable viewpoint, Haliburton Forest will ensure your special day is both beautiful and eco-friendly. No one wants to imagine that their special day would be an environmental no-no. 
You and your guests can avail yourself of all their activities, like snowmobiling, dog sledding, and more. You can also observe wolves in their natural habitat. It is going to be a unique wedding adventure to beat them all. 
Rounds Ranch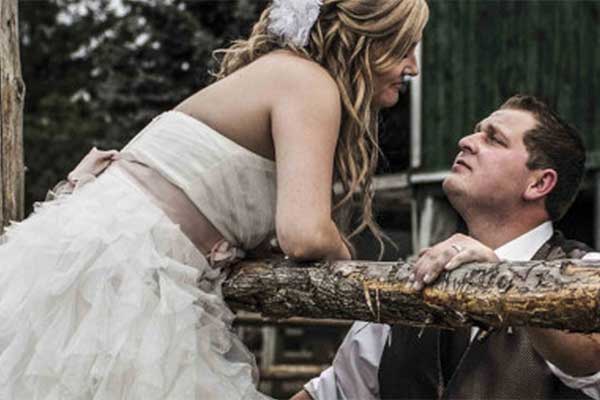 Hold your big day at a rustic, beautiful ranch. Country weddings are becoming more and more popular, and you may dream about the day you say "I do" at the perfect rustic venue. If you are looking for a spot that hosts country weddings in the Barrie, Ontario area, look no further than Rounds Ranch.
Footprints Resorts (Adults Only)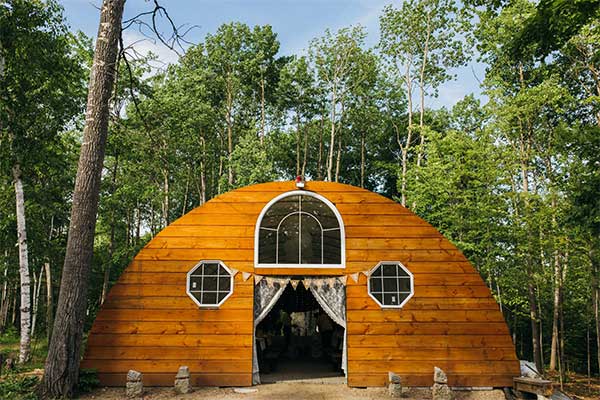 You might have had an experience where a wedding was overrun with children, and babies, all afoot and all making a ruckus. Maybe you decided then that your wedding would be children and babies free. 
If that is the case, Footprints Resort is for you. It's a private retreat located a few hours from Toronto in the Hastings Highland on the southern tip of Algonquin Park. There's a private lake which you can sunbathe on or canoe around in. 
This will be that romantic, intimate, and quiet wedding that you've been searching for all along.
Sherwood Inn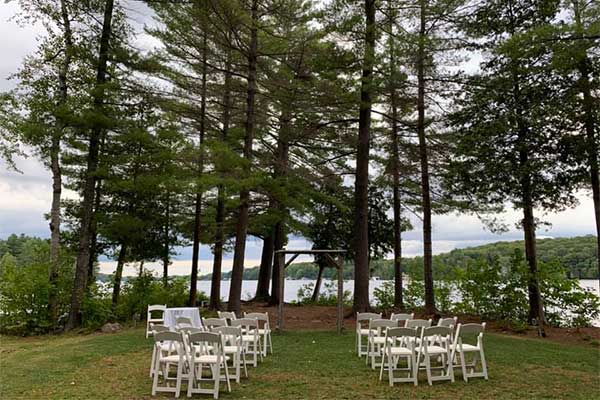 Sherwood Inn is the perfect location to host friends & family while you say your I do's and the resort can be yours…exclusively. With no other guests on property, your special day turns into an entire Muskoka resort wedding getaway for everyone. Sherwood Inn is one of the most romantic resorts in Ontario and the ultimate Muskoka wedding venue. A truly unforgettable Muskoka resort wedding may be more affordable than you might imagine as Sherwood Inn offers special resort wedding packages to suit almost every couples budget.
From Pop-Up weddings to one-day elopement packages, Sherwood Inn suits all kinds of couples looking for small or, even really smaller weddings, but want them to be extra-special too.
Deerhurst Resort
You've always dreamt of having your wedding in the posh beauty of Muskoka and with Deerhurst Resort, you can finally make that dream come true.
Not only are their accommodations and venue newly refreshed, but they have a wide variety of activities to suit everyone. Treetop trekking anyone? How about a round of golf at two 18-hole courses? You and your guests will never run out of things to do.
They also have an outstanding live stage show every evening, to liven up any gathering. It seems like they have taken care of every possible desire you might have for your intimate wedding. Small wedding venues for the win!!
Adamo Estate Winery
Did your ears perk up at the word 'winery'? Imagine a wedding at an award-winning boutique winery with over 28,000 vines. Tour the winery, taste the wine and have your wedding in a beautiful setting made to entice.
It's a wine-lovers dream come true. Not only do they have outdoor spaces overlooking the vines, and indoor spaces luxuriously furnished, but they also have a dinner/event area in the cellar. How cozy and unique would that be!
Blue Mountain Resort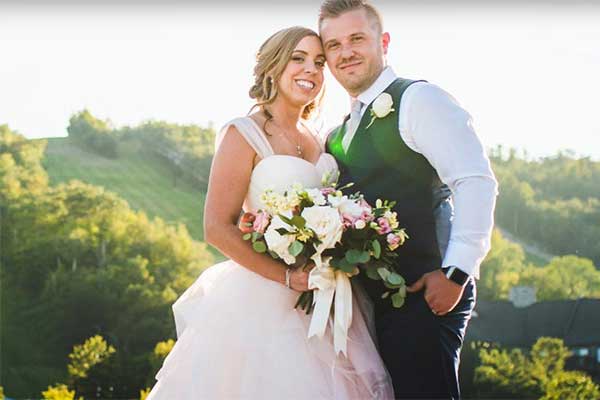 Blue Mountain Resort isn't only about ski hills, even though everyone seems to think of it that way. They are open all year-round and have a wide variety of activities to suit everyone. 
This is another venue for the outdoor lover. The adventurer in you and your guests will be pleased. In the winter, there's skiing and plenty of après activities. In the summer, there's golf, hiking, and more.
Explore the great outdoors, and get even closer to all your guests. In the evening, relax in a hot tub while you look out at the twinkling lights of the mountains, and enjoy some decadent hot cocoa.
There are also more than 50 unique restaurants for you to entice your taste buds with. 
Craigleith Manor Boutique Bed and Breakfast
Nestled between Georgian Bay and the Blue Mountains sits Craigleith Manor. Twice named by TripAdvisor as one of the TOP 25 B&B/Inns in Canada, this award-winning boutique bed and breakfast has long been the perfect location for couples seeking privacy, in luxury surroundings. With only three guest rooms, each with private ensuite, they can provide the personal touches that you would expect in a five-star accommodation. Additional accommodation, beyond our capacity of 6 overnight guests is available locally.
Small Wedding Venues to Suit Every Need
As seen above, there are small wedding venues in Ontario to suit every need, desire, and dream that a person planning their wedding could have. 
If you are holding a small or micro wedding, you might have imagined that it would be hard to find a venue that suffices, but there are options enough to suit everyone.  
The only thing left to do is pick one from the list and plan out your special day. Good luck!
If you are still unsure and want more options:
See All Wedding Venues