While Ontario might not be the first place you think of when you think treetop adventures, maybe it should be. After all, it's a great way for the whole family to get outside and enjoy the last days of summer.
If you're interested in learning more about fall treetop activities in Ontario, his guide is for you! Keep reading and let's dive into a few of the best fall tree canopy activities in the area! 
Go On a Zipline Adventure
One of the many fun things to do in the trees in Ontario is to go on a zipline adventure. Zipline adventures are a great way to get your adrenaline pumping and to see the world from above.
On a zipline adventure, you'll get hooked up to several large-scale flying foxes that take you through the trees. Once you're harnessed in, your instructor or guide will help you kick off from one platform to the next and explore Ontario from above.
If you want something a little more on the wild side, you can try checking out an aerial game and zipline adventure. These fun adventure courses are a blend of high ropes and zip line platforms spread throughout the forest. 
There are plenty of these in Ontario, such as those found at: 
Ganaraksa
Barrie
Stouffville
Hamilton
Huntsville
For anyone looking for a really fun Ontario activity, it's time to stop Googling "treetop activities near me" and instead book a visit to one of these amazing locations!
Places 'to do' ziplining:
Scenic Caves Nature Adventures, The Blue Mountains
Blue Mountain Resort, The Blue Mountains
Treetop Trekking, various locations
Stay in Treetop Rental Properties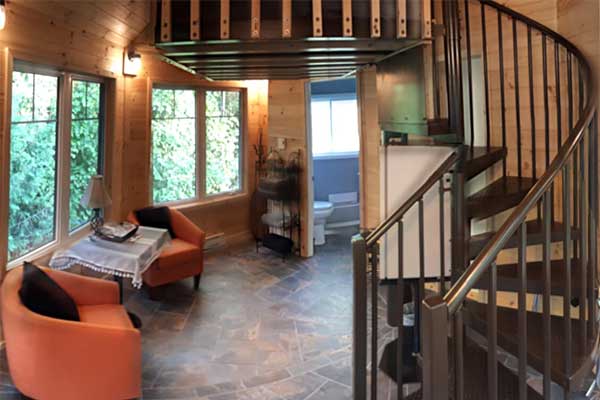 One fun way of exploring Ontario from above is to check out some of the amazing Treetop places to rent cool places that you can stay in around the province. These are fun and unique treehouses that give the childhood playhouse an adult twist. 
At treetop rental properties, you'll find staircases that let you climb into the trees. From there, you'll be greeted by a comfortable bed and a cozy living room where you can relax and unwind. 
One of the best Ontario treetop rentals you can check out can be found at Evergreen Resort out on the Bruce Peninsula. This Ontario treetop accommodation gives you a 180-degree view of the forest, making it a breathtaking place to stay. 
Additionally, the treetop rental has both heating and air conditioning, meaning you can make a romantic getaway to the area no matter what season you're free. It's the perfect place for you and your special someone to snuggle up under the stars in the middle of nature. 
Check Out a Suspension Bridge Trail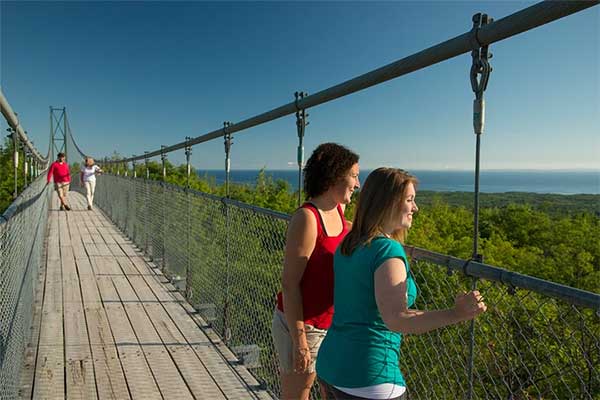 Have you heard of treetop trekking? If you haven't, you might want to think about looking into it. Treetop trekking is an amazing experience that lets you explore Ontario from above. 
One treetop trekking option you can explore is the Haliburton Forest Canopy Tour. This tour includes suspension bridges that are located high above the Haliburton Forest as well as the opportunity to get out on the water and go for a paddle on a wilderness lake. 
Another unique trail you can check out is the Scenic Caves suspension bridge located out at the Niagara escarpment. This gorgeous area takes you through beautiful natural landforms and allows you to check out the stunning vistas below. 
If you're wanting something that gets your adrenaline pumping, you might want to head over to Heart Lake for some treetop trekking. The Red-Tailed Hawk Observation Course at the area hooks you up to a harness and takes you on rickety suspension bridges that give you great views of the surrounding area. 
Or, if you're wanting a more kid-friendly treetop trekking activity, there are some other options you can enjoy. Check out the Treewalk Village in Stouffville that takes you between constructed homes. Plus, the kids' discovery course lets your little ones enjoy a tamer version of a high ropes course.
Try a High Ropes Course
For anyone who's wanting a bit of excitement in their life, exploring one of the many Ontario treetop adventure parks in the province is a must. There are several different adventure parks that you can explore. 
One of the more adventurous options is Adventure at Blue Mountain. Not only does this park offer high ropes courses for those wanting to get outside and try their hand at treetop exploration, but there are many other activities you can participate in, too. 
For people wanting a more relaxed evening, they can explore the many trails along the mountain paths. Hikers will get the opportunity to view many different angles of the Ontario wilderness while exploring the area. 
Or, you can opt for the more classic high ropes course. These courses consist of climbing courses where you can scale up walls and make your way into the trees while attached to a safety harness. 
At the end of the day, you can hook up to a zipline and take a ride out of the treetops. And, with the Explore All Day passes at Adventure at Blue Mountain, you can enjoy your time in the trees for as long as you like.
Go on Your Own Treetop Adventures in Toronto
With this fun guide, you're ready to plan your own treetop adventures right here in Ontario. We guarantee the whole family will enjoy these unique Ontario outdoor activities and will be ready to get their adventure on!
So, are you ready to plan Ontario treetop adventures that give you memories to last a lifetime? If so, check out To Do Ontario and plan the perfect Ontario treetop experiences today! 
Looking for fall adventures on the ground? Check out the Best Fall Activities Blog for more things 'to do'!