Indigenous Events, Activities & Experiences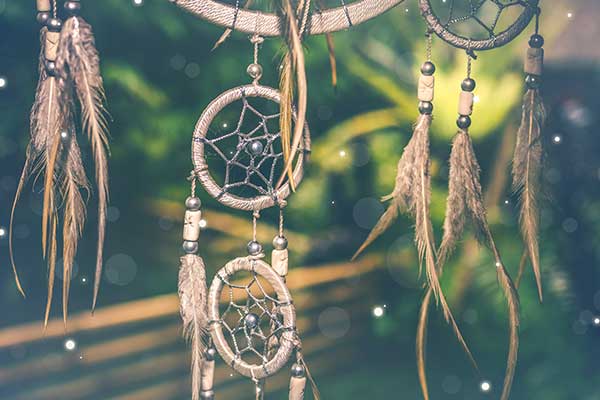 Every June brings another chance to celebrate Canada's rich history with National Indigenous Peoples Day on June 21st. First established as a national holiday in 1996, the day encourages Canadians to honor and celebrate the legacy and culture of the country's Indigenous groups.
Whether you're looking to celebrate your own Indigenous heritage or simply want to honor a piece of the country's history, there are plenty of ways to get involved this year. Read on for more information about Indigenous Peoples Day, and find out how you can celebrate throughout the entire month of June!
A History of Indigenous Peoples Day
In 1982, the National Indian Brotherhood (now known as the Assembly of First Nations) called for the creation of a day that would recognize the rich culture of Canada's Indigenous peoples, as well as the contributions they've made to the nation's prosperity. 
Over a decade later, Governor General Roméo LeBlanc officially declared June 21st of each year to be National Aboriginal Day. Thanks to a statement issued by Prime Minister Justin Trudeau in 2017, the holiday is now widely known as National Indigenous Peoples Day and honors the First Nations, Inuit, and Métis peoples of Canada.
The Importance of Celebrating Indigenous Culture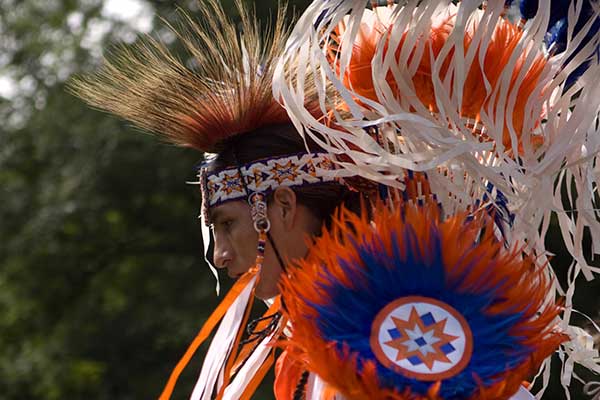 The contributions made by Indigenous peoples to Canada's history and prosperity are overlooked. And thanks to a long history of colonization and discrimination, Indigenous culture has largely become invisible, despite the fact that Indigenous peoples make up nearly 5% of Canada's total population. 
Celebrating Indigenous Peoples Day provides a space for these groups to be recognized and celebrated for their achievements and rich culture. It also allows non-Indigenous people to gain a better understanding of and a new appreciation for the Indigenous communities that surround them.
Celebrating Indigenous Culture Respectfully
If you're a non-Indigenous person who would like to participate in the Indigenous Peoples Day celebration, it's important to maintain a level of respect.
Respectfully observing the holiday largely means keeping the focus on Indigenous culture and history. This can be done in countless ways and can include anything from eating traditional foods to attending a celebration hosted by an Indigenous organization. 
Another crucial aspect of celebrating Indigenous Peoples Day respectfully is educating yourself about Indigenous history, which is often improperly taught. Staying educated can minimize misinformation surrounding Indigenous culture, and keep misconceptions from being passed down to future generations.
Ways You Can Celebrate Indigenous Peoples Month This Year
In 2022, there are plenty of things you can do to honor Canada's Indigenous history all month long. Read on to find out what you can do for Indigenous Peoples Day this year!
Online Government Programs & Celebrations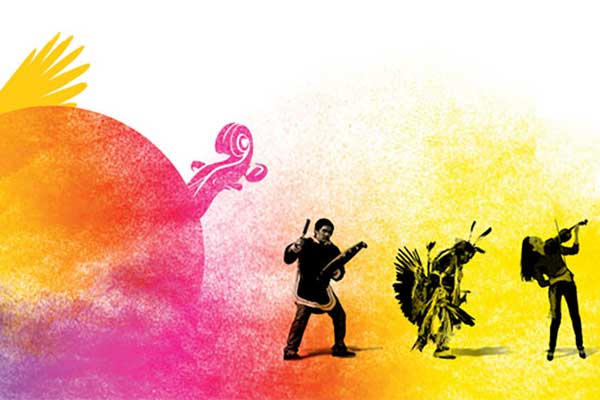 Be sure to check out National Indigenous Peoples Day virtual activities happening in your region through Celebrate Canada.
Learn More
---
David R. Maracle
Where: Picton, Ontario
David R. Maracle, Mohawk Bear Clan of the Tyendinaga Mohawk Territory will be performing an outdoor concert June 25 at the Macaulay Heritage Park  house in Picton Ontario with a Traditional Mohawk dancer accompanying him. David then will exhibit his artwork along with other Indigenous Artists at the same space on July 22 to August 11 at the Macaulay Heritage Park house.  
Learn More About David
---
Summer Solstice Indigenous Festival 
Where: Ottawa, Ontario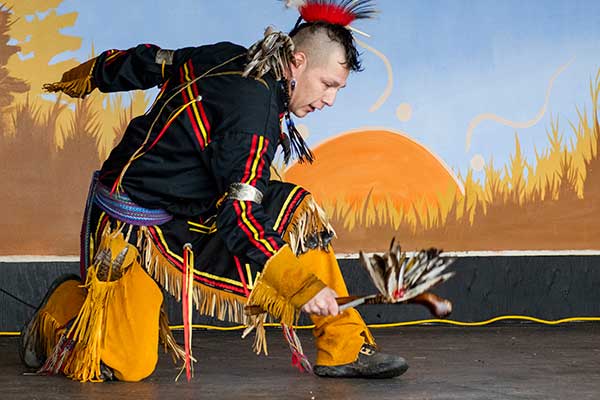 Come celebrate National Indigenous Peoples Day with our Summer Solstice Indigenous Festival, Competition Pow-Wow and much more.
JUNE 21 – 26, 2022
INDIGENOUS DAY CELEBRATION: June 21
EDUCATION DAYS: June 22 – 24
FREE performances and interactive workshops that share and celebrate the diverse Indigenous cultures of Canada. All of this programming is designed to encourage interaction and engagement with our Indigenous artists and knowledge keepers who will help bring the curriculum to life in a fun, authentic and appropriate way.
POW WOW: June 25 – 26
This year the Summer Solstice Indigenous Festival is excited to feature both our Virtual Pow Wow and live Competition Pow Wow, presented by CN Railway & Canada Deposit Insurance Corporation.
Learn More About This Festival
---
Mādahòkì Marketplace
Where: Ottawa, Ontario
Learn More
---
National Indigenous Peoples Day @ Sainte Marie Among the Hurons
DATE: Tuesday, June 21, 2022
HOURS: 10 am to 3 pm*
Special Event Rate: $ 12.00 per person, plus HST
* The historic site and indoor museum are open until 5 pm (last admission at 4 pm).
This event will encompass a wide variety of unique Indigenous cultural and historical demonstrations such as music, art and traditional teachings.
Programming includes:
● Drumming and dancing demonstrations
● Tasting three sister soup and corn bread
● Corn husk dolls and okies workshop
● Canoe display and wigwam work
● Garden and animal presentations with our new Agriculture Worker
● Lacrosse, speed net and storytelling presentations with special guest, Chris Walser
● Indigenous art presentations
● Indigenous artisans market
Learn More
---
Anishinaabe Cultural Experiences @ Cape Croker Park
Where: Wiarton, Ontario
This team of experienced Anishinaabe naturalists and guides have developed a series of land & water-based activities to share with Park visitors.
Special Programs for 2022
Anishinaabe Painting – An Exploration of Colours and Wildlife

Saturday June 18, 10am-12:30pm
Join Anishinaabe artist and teacher Geoffery Wimtik Johnston in an art lesson inspired by the paintings of the famed Anishinaabe artist Norval Morriseau (the "Picasso of the North") and the stories of renowned Anishinaabe writer Basil H. Johnston. Using acrylic paints, you will explore colour and art techniques using motivation from Noval Morriseau, whose paintings were inspired by the stories of Basil H. Johnston, who is from Neyaashiinigmiing and spent many days strolling through the trails, shores, and forests of Cape Croker Park with his dogs.
In the Acrylic Canvas Painting your motivation will come from our local wildlife and the beautiful colours of Cape Croker Park, from which you will paint your own canvas to take home. You may also choose to choose a rock from along the shore to paint. You can paint more than one rock if you wish, and time allows.
Saugeen Sojourn

The ultimate camping weekend at Cape Croker Park, Chippewas of Nawash Unceded First Nation (Neyaashiinigmiing)
Three nights and two full days of adventure on the Saugeen (Bruce) Peninsula.
This small group experience (maximum 12 participants) includes the comfort of double occupancy glamping tents, all your meals (featuring Naagan, A Foraged Feast), fully guided and curated exploration of the local waters, natural features and cultural significance of the traditional lands of the Anishinaabek people, as well as all your adventure equipment.
JUNE 3-6 • AUGUST 12-15, 2022
---
Mohawk Institute Public Virtual Tour
The Woodland Cultural Centre presents a screening of the Mohawk Institute Residential School. Join them every third Wednesday of the month at 7pm and help support virtual programming at the Woodland Cultural Centre with your donation.
The virtual tour video was created with local production company Thru the Reddoor, and it follows the guide, Lorrie Gallant, as she gives a tour of the former Mohawk Institute Indian Residential School. During the video Lorrie provides the history of the institution over its 140 year history. Viewers will get to see the different rooms in the school, from the girls' and boys' dormitories, the cafeteria, laundry room, and other rooms throughout the building, as well as hear interviews from five Survivors of the Mohawk Institute.
Learn More
---
June is month filled with things to celebrate in Ontario. Always check out the ToDoOntario Events Calendar for more things to do in Ontario.