Where to experience the most romantic adult only resorts in Ontario
ReDiscover Rekindle Your Love For Ontario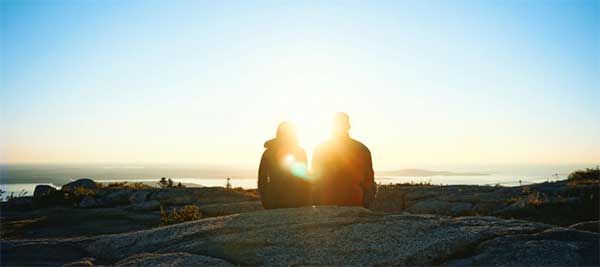 At ToDoOntario we love kids.  However, we know that when you are planning a romantic getaway, the last thing you want to worry about is traveling with or around children. We know, they can get a little loud. We know that can kill that serene vibe you were working towards. Lucky for you, there are many resorts throughout Ontario that cater to adults only. They know that sometimes, adults need a break or want to be able to enjoy a quiet couples retreat.
First, adult only resorts are fantastic not just because they are kid-free. Their focus on adult hospitality gives them the upper edge on being able to cater to us vegetable eating, whisper capable, coffee drinking adults. With luxurious spas, gourmet dining and naturally serene landscapes, these grown-up ready resorts have what any couple will need to make for a romantic getaway up north.
Second, If you're looking for something more upbeat and adventurous, you can find that too.
Check out this list of top Ontario adult only resorts and start planning that perfect romantic getaway. Winter, spring, summer or fall romantic vacations near or far from you in Ontario are an easy thing to do! 
Make Every Day Like Valentine's Day
---
Algonquin Park
Adventure Lodge

Adventure Lodge is a couples retreat that is quiet, set with the wilderness. All cabins have a warmth that is inviting to relax in.  Crackling fires in all cabins. Come to Algonquin Park and rejuvenate your soul with your partner.
https://www.adventurelodge.com/
More Romantic getaway packages
Couples Resort

Those of you who need to escape from the bustle will find us calming and rejuvenating. There are many ways to do nothing if that is your wish. On the other hand, unlimited activities will keep the adventurer active all year round. Ontario's Natural Algonquin Park is ideal for the sport enthusiast or avid adventurer who will be delighted with the extraordinary activities available.
Click here to read about Couples Resort's Covid-19 safety updates and protocols:
https://www.couplesresort.ca/safety.php
https://www.couplesresort.ca
More Romantic getaway packages
---
Port Severn
Rawley Resort
At Rawley Resort, Spa & Marina, you will find a secret escape that welcomes you, revives you, lifts your spirits and soothes your soul. No lineups, no stress, no worries – just intimacy, serenity and relaxation. Whether it's a romantic getaway, a weekend of pampering or a restorative retreat – your experience will deliver the exclusivity and luxury that is Rawley.
Click here here to learn about Rawley's Covid safety updates and protocols:
https://www.rawleyresort.com/
More Romantic getaway packages
---
Port Carling
Sherwood Inn
Nestled among towering century-old pines at the very edge of Muskoka's sparkling Lake Joseph, Sherwood Inn is a retreat unlike any other. Each guestroom and cottage suite is decorated to reflect the traditional character of Muskoka, and is complete with every modern convenience. Many rooms feature cozy wood-burning fireplaces and private whirlpools. Visitors to our elegant inn experience gracious hospitality, luxurious pampering, and absolute tranquility.
Click here here to learn about Sherwood's Covid safety updates and protocols:
https://www.sherwoodinn.ca/covid-19
www.sherwoodinn.ca
More Romantic getaway packages
---
Bancroft
Footprints Resort
Footprints resort caters to adults providing a romantic getaway experience you will never forget. We invite you to explore our private grounds, featuring a private lake and Beach.
Enjoy all that the resort has to offer. Whether you are looking for adventure or relaxation, you will find it at Footprints. Our private, pristine lake is yours to enjoy with canoes, paddle boats & a private beach.
www.footprintsresort.com
More Romantic getaway packages
---
Collingwood
Craigleith Manor Boutique Bed &Breakfast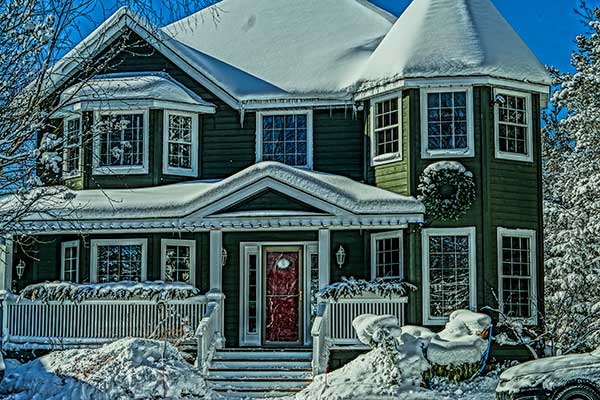 NESTLED BETWEEN GEORGIAN BAY AND THE BLUE MOUNTAINS SITS THE CRAIGLEITH MANOR. This unique boutique bed and breakfast is the perfect retreat for adults to decompress and, reconnect with nature and each other. Many of our guests say we are more like a boutique hotel than any other B&B they have stayed at. We offer sophisticated luxury in a welcoming, distinctive and relaxing space for the discerning. With only three unique, modern, very private, elegantly appointed guest suites, you will feel like you are at home.
https://craigleithmanor.com/
More Romantic getaway packages
---
Mono
Hockley Valley Resort
Plan a getaway and enjoy a fantastic night's sleep in one of 104 guestrooms, experience culinary genius in our on-site restaurants, play in an indoor and outdoor pools and relax and recharge in 8, 000 sq. ft. full-service spa. Have we mentioned the 18-hole championship golf course, 16 scenic ski/snowboard runs for all levels?
Click here here to learn about Hockley's Covid safety updates and protocols:
https://hockley.com/wp-content/uploads/2020/07/Dear-Guest-2.pdf
https://hockley.com/
More Romantic getaway packages
---
Heather Lodge
Haliburton

Heather Lodge is a quaint four season resort which offers romantic getaways for couples wishing to enjoy the natural beauty of the Haliburton area.  Slow it all down with some lakeside solitude on 300 feet of spectacular waterfront on Twelve Mile Lake.  Waterfront activities include canoes, kayaks, stand up paddle boards, and a paddle boat as well as a safe swimming area. Heather Lodges' dining room offers adults a relaxing contemporary dining experience.   
The Heather Lodge dining room is set up into three separate spaces, starting with the lakeview room (primarily reserved for in-house guests), the large dining room (great for groups of 4 persons or more) and an outdoor patio deck overlooking Twelve Mile Lake.  They are passionate about providing the highest level of service and cuisine, offering an authentic Niagara Wine list.  Every meal is a culinary experience, offering local products of produce; such as Abbey Garden's fresh milled red fife pancakes and Wintergreen Maple Syrup, with flavours and presentation that will leave you fully satisfied. 
Heather Lodge is open in all seasons. Winter activities include snowshoeing, cross country skiing, bonfires and inside coziness.
https://www.heatherlodge.com/
More Romantic getaway packages
---
Georgian Bluffs
Evergreen Forest Getaways
The ULTIMATE Romantic Getaway Under the Stars!
INSIDE: In any season, the Constellation Suite is your romantic destination, with an enormous, 10-foot wide skylight right above the bed. You'll feel like reaching up and touching the stars! Evenings are breathtaking when the lights go down, whatever the weather outside. A private ensuite washroom, satellite TV and walk-out deck are all standard features. Mornings are nice and bright under the skylight, and you'll feel fresher and more rested.
OUTSIDE: The outdoor Gazebo is deep in the forest, surrounded by nature. On clear nights, snuggle up and enjoy the show as the heavens wheel above. Rainy nights are awesome too, as rivulets cascade down the CLEAR roof. It's a little home in the wild, with a gazebo heater, privacy blinds and just a few steps to a private washroom. The fresh air is exhilarating under the trees, and like camping, morning comes crisp and cozy under the warm blankets.
And for something completely different and neat – Try the TreeTop Suite!
There's nothing like a treehouse! Here's your chance for a super romantic getaway to a natural place, far from the city, where only the gentle swaying of the treetops provides life's rhythm. This TreeTop Suite rests high among the verdant trees in the Bruce Peninsula. The treehouse reacts just like a tree would, and has a living, vibrant feel.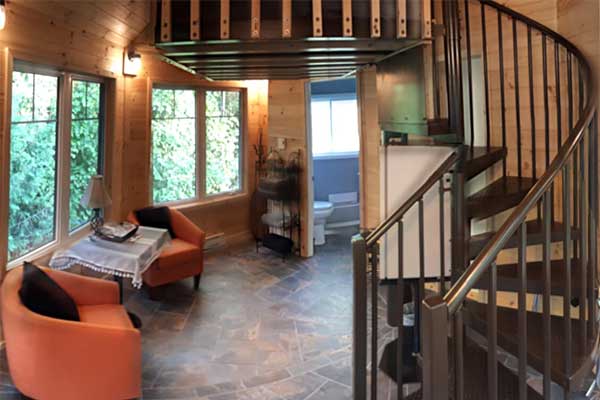 https://evergreen-bed-and-breakfast.com/
More Romantic getaway packages
---
For more ideas on where to enjoy a couples getaway up north see all of our Romantic Getaways. You can also find fun date ideas and have a fun day trip or romantic outing near you.