Suggested Algonquin area (including Algonquin Park) fall colour routes has 3 suggested routes.  Algonquin Park area is renowned for its fall colours, maple and hardwood forests, hiking trails and canoe routes. Southern Algonquin Route, Eastern Algonquin Route and the Northern Algonquin Route have identified attractions, accommodation, and driving directions. The towns and communities you pass through via Highway 60 will be Huntsville, Dwight, Whitney, Barry's Bay, Wilno, Killaloe, Pembroke.  Or you can circle Algonquin Park via North Bay and Highway 17. 
Algonquin Park Events
Algonquin Park Area Getaways
Ontario Fall Colours Road Trips and Drives
Algonquin Area Road Trips
The routes below will take visitors a minimum of a day each with an overnight stop. We suggest a two night getaway to maximize your Algonquin experience. Visitors can combine travel routes and road trips as they choose. We currently have 3 suggested routes for the Algonquin area. Each needs to be explored to realize the scope size and beauty of Algonquin, not just as a Provincial Park but as the Algonquin Region. The Highway 60 traditional Algonquin Park corridor starts in Huntsville off Highway 11 or off Highway 35 in Dwight and the Township of Algonquin Highlands. South Algonquin starts in Haliburton County just north and west of Bancroft, and East Algonquin starts in Barry's Bay off Highway 60 heading north east.
Algonquin Park East Side Drive Fall Colours Route
Barry's Bay to Algonquin East Side-Barron Canyon After visiting the Highway 60 corridor, this side trip is a 'must see' for the Barron River Canyon and the Tom Thomson location for his famous 'Jack Pine/ painting. See more detail on Tom Thomson view over the beautiful hills of Algonquin.
Driving Time: 90 minutes of straight driving (with a stop to buy your permit) will put you at the Barron Canyon Hiking Trail after leaving the junction of Highway 60 and Highway 62 in Barry's Bay.
Driving Direction from Barry's Bay: Travel east along Highway 60 to Renfrew County Road 58 at Killaloe. Follow 58 through Bonchere, Road Lake Centre and Alice and make a left turn on County Road 26. Follow 26 and make a left turn on County Road 28. Follow 28 to the end and continue on the Algonquin Park Road (changes to gravel).
Via Highway 17: Achray Campground is located on the east side of Algonquin Park at the southeast end of Grand Lake. It is located 50 km from the Trans Canada Highway (Hwy. 17) near Pembroke and is accessed via Sand Lake Gate on the Barron Canyon Road (8 km paved road, 42 km gravel road).
Accessories. Must have: Algonquin Park Information Guide (this is free and good detailed map pick up at Park Gate) and Barron Canyon Trail History Guide (cost .50 cents at Sand Lake Gate). Binoculars, Camera,
For latest fall colour (color) changes please see Fall Colours Leaf Change Northern Ontario
Algonquin Park Through Time and Space: The history and ecology of Algonquin Park Told with satellite imagery and computer graphics. Frank Ahern
Highlights: Barron River Canyon is a must see destination in all of our four seasons, Archay Campground and Jack Pine Trail Hike to Tom Thomson site for his famous painting, Jack Pine.
Contact: For more information on this famous location contact or visit the Algonquin Park campsite section and scroll to Algonquin North www.ontarioparks.com
Algonquin Park Southern Drive Fall Colours Route
Driving Directions: This travel route assumes you are already in the village of Haliburton Ontario. Haliburton Village to Bancroft to Haliburton Village Return (all roads are paved): The colours on the south side of Algonquin and the Haliburton Highlands are equally as splendid in the fall and less traveled. Follow Highways 118 East to County Road 4. Turn left on county road 4 to Wilberforce. At the stop sign turn left at county road 648 and proceed to Harcourt. Just past Harcourt look for County Road 10 and proceed to Maynooth (this road runs along the very south side of Algonquin park with access roads to the Park). Stay on County Road 10 until the stop sign. Turn left and you will enter Maynooth on Highway 62. Visit several of the funky craft and antique stores here. Take Highway 62 South to Bancroft (Mineral Capital of Ontario). Take Highway 28 south and proceed to the village of Paudash. Turn right on 118 North (west) through Cardiff, Tory Hill, and back to Haliburton Village. Approximate leisurely driving time with stops (3 hours)
For latest fall colour (color) changes please see Fall Colours Leaf Change Northern Ontario.
Algonquin Park Northern Drive Fall Colours Route
Driving Directions: To catch Algonquin glory, follow Highways 400 and 11 north to Huntsville, then take Highway 60 east through Dwight and Oxtongue Lake to Algonquin park where there are many marked nature trails. When leaving the park proceed east on Highway 60 to Whitney. Stay on Highway 60 east to the Barry's Bay and turn right at Highway 62 and south on Highway 62 to Combermere, Maynooth, Bancroft , and Highway 28 south to Lakefield and Peterborough.
For latest fall colour (color) changes please see Fall Colours Leaf Change Northern Ontario
Suggested Attractions–Editor's Pick. Ragged Falls–One of the most scenic waterfalls, sought out by photographers. Just a short hike off highway 60 before Algonquin Park past Oxtongue Lake-no charge admission.
A number of fall drives, travel routes, circle tours, regional Ontario travel and tourism association routes, and suggested Ministry of Tourism great fall drives have been identified in addition to the fall drives and road trips above. Click here for more Ontario fall colour drives and road trips.
Click the image to go back to the Ontario fall colour report.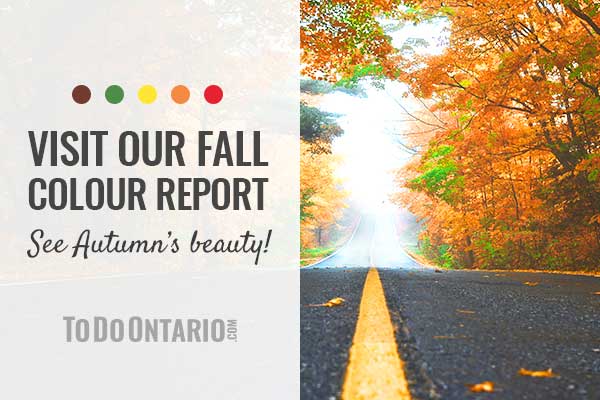 ---