Summer and Fall seasons in Ontario are the time of year to check out diners, food trucks, restaurants and more for the ultimate fish and chips. Indeed, cities, small towns and communities have fish and chips all season ensuring that people enjoy fish from Ontario's vast fresh waters. 
No matter where you live in Ontario, it's pretty easy to find a few fish and chips stands or restaurants near you. And it's important to know that when it is safe to travel again what your 'to do' list entails when it comes to delicious meal. 
This is the season for eating locally sourced produce. Eating local in Ontario is easy!
Oh, and hey if you really want to eat local Ontario, it is very likely that the potato french fry is also local. It is very important that the accompanying 'tater side dish is equally delicious and worth the drive. Mr. French Fry, we're looking at you too!
In fact, other typical side dishes to fish and chips are likely locally sourced grown produce too. Summer and early-fall is a great time when Ontario gardens are bursting with cabbages, lettuces, carrots, beets and other tasty things to make coleslaw and side salads with. These help brighten the already delicious battered or pan-fried fish.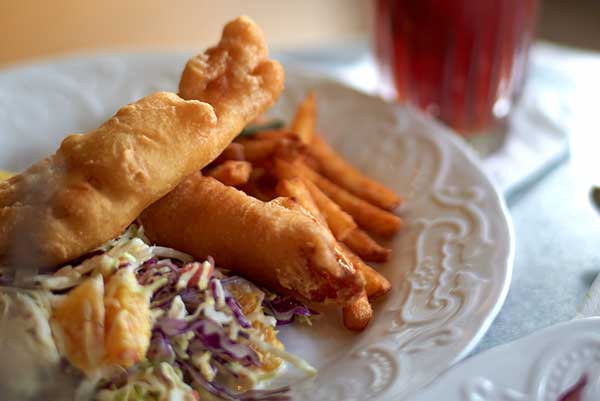 Best Fresh Fish and Fresh Cut French Fries
Where's the Catch of the Day? – According to YOU!
We made a Facebook post last year and asked our followers to tell us their favourite fish and chips stops. We've compiled the list and ask you to try it for yourself, let us know if you agree or disagree, and even let us know if you think the list is missing someone!
Swiss Country House Restaurant @ Ahmic Lake Resort
50 Robinson Drive
Magnetawan
Website: http://www.ahmiclakeresort.com/restaurant.html
Phone: (705) 387-3853
Larry's Chip Stand
230 Main Street
Sturgeon Falls
JJ's Chip Wagon (formerly Just Judy's)
7597 Highway 89
Alliston
Sullys Muskoka Gourmand
345 Ecclestone Drive
Bracebridge
Shelby's Chipwagon
191 Sharpe Street E
Gravenhurst
Tristan's Tasty Eatz
2222 Highway 60
Huntsville
Mrs H's Fish 'n' Chips
2190 Muskoka Road 38
Bala
Herbert Fisheries
21 Channel Street
Killarney
Perky's Fish and Chip
165 County Road 6 S
Perkinsfield (Tiny)
Jocko Point Fish and Chips
1 Jocko Point Rd
North Bay

Joeys Seafood
180 Shirreff Ave
North Bay

Duckworth's Fish & Chips
750 Atherley Rd
Orillia
Danny's Fish & Chips
411 Huronia Rd
Barrie
Kinmount Fish & Chips
4080 Kawartha Lakes County Rd 121
Kinmount
Cardinal Lodge Mattawa River Resort
6251 Hwy 17
Mattawa
Gilly's Snug Harbour Restaurant & Marine
138 Snug Harbour Road
Carling
Baked and Battered
128 Highland St
Haliburton
Lord Elgin Fish & Chips
5128 ON-21
Port Elgin
Reel Em In Fish n Chips
88-202 Huronia Rd
Barrie
For the Halibut Fish & Chips 
220 Hastings St N
Bancroft
The Royal Oak – Centrepointe
117 Centrepointe Drive, Unit 105
Nepean
Chips + Malt
201 Main Street South
Newmarket
Taylor's Fish & Chips
417 Erie Street South
Wheatley
The Fish Shack
1099 Muskoka District Road 39
Baysville
Beamsville Fish & Chips
Location in Beamsville, Ste. Catharines, Welland
Erie Belle Restaurant – House of Fish & Chips
259 Harbour Street
Kincardine
Duckworth's Fish & Chips
2282 Kingston Road
Scarborough
Your favourite isn't on the list? Tell us here:
Fave fish and chips
Best Ontario Fish & Chips
---
Google Map – Ontario's Best Fish & Chips
Love to fish and looking for a getaway to help you catch your own shore line meal?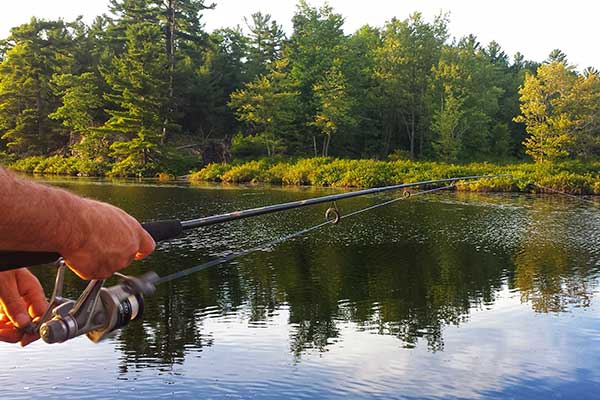 Fishing Getaway Packages