Over 11 million tourists visit Ottawa every year, and for a good reason. There is a variety of things to do in Ottawa for all the family or as a couple. But what are the best things to do in March? Keep on reading and you will easily have a March Ottawa ToDo list.
When deciding what to do in Ottawa, it is essential to consider the season. Throughout the year, there are different events and top things to do. You will be missing out on experiencing winter in Ottawa at its best in March if you do not do your research.
The good news is you do not need to look far. Read on for the top things to do in Ottawa in March for all the family. 
Walk Along the Ottawa Canal Skateway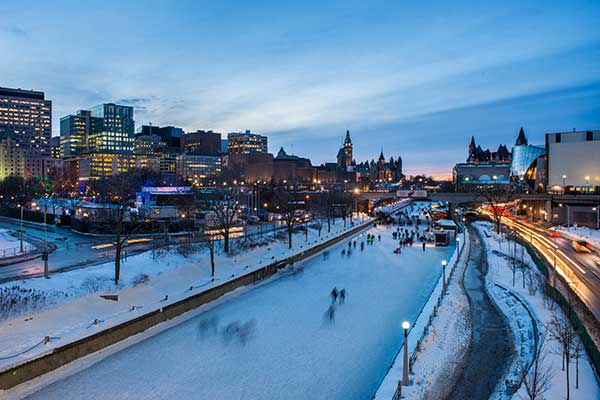 Sometimes you you can still catch the Ottawa Rideau Canal Skateway in early March, weather permitting. However, the skateway has closed for the 2022 season. The Canal Skateway is the world's largest skating rink, which also happens to make its way through downtown Ottawa. It is worth coming back for another year, but this year you can still walk along the edges and take in amazing views of Ottawa.
So, not only do you get to experience the fun of skating, but you get to do it on Ontario's UNESCO World Heritage site. Enjoy sightseeing and seeing a different perspective of Ottawa. If you do not skate, you can walk along the edges of part of the rink or on the pathways above.
Explore the National Gallery 
The National Gallery of Canada is the perfect thing to do when in Ottawa during March. One of its current exhibits is one of Ottawa's March events that you shouldn't miss; Canada and Impressionism.
There are a variety of galleries, events, and learning spaces for the whole family. Take part in family art adventures and workshops together. Or take shelter from the March weather and discover some incredible art. 
Visit Byward Market Shopping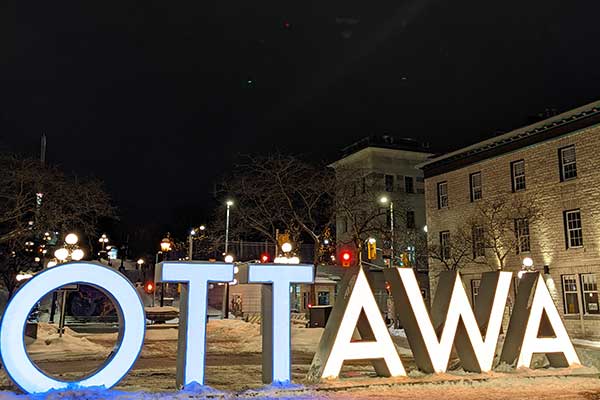 The historic Byward Market neighborhood is full of shopping opportunities that you should not miss. Wander around Ottawa's oldest neighborhood, visiting the Farmers' market and the many different shops. It also plays host to certain March events in Ottawa too. 
Explore the many independent boutiques, shops, galleries, and restaurants around Byward Market. And when you get tired of shopping, take a break in one of the restaurants.
Eat at ALL the Restaurants
Centretown and the Byward Market contain so many great restaurants, you'll be able to eat food from all over the world in all kinds of restaurants.
Be sure to check out old fish market building. Here you will find three brand new eateries, each with their own unique style and vibe. Here you'll find 3 unique restaurants stacked for a full night of fun. If you like a modern unique vibe, great food and creative cocktails, this is the place for you!
Sleep in Ottawa's Castle
If you are visiting Ottawa for more than a day, stay in its castle: the Fairmont Château Laurier. You are not far from the Byward Market and Rideau Canal, but you get to be transported to a historic chateau. Full of romance for couples and fairy tales getaways for children, this historic hotel is steep in stories….and maybe even ghosts! This is a great place to stay if you like history and notable Canadians. We don't tell you more, you'll have to visit to see for yourself. 
There are various rooms and suites available for the whole family, or for couples. There are also all the services you need to enjoy in the castle, from childcare to the pool and fine dining.  
> See Fairmont Chateau Laurier Offers <

Eat or Have High Tea at Zoé's
These are experiences that turn into traditions. Have a burger and a local brew, or go all out fancy and have the high tea experience Zoé's is famous for. 

* Fairmont Chateau Laurier Tea-Lightful Spring Break Offer *
Delight in the Fairmont Tea experience when you spend a night at Ottawa's Château Laurier this Spring Break.
Reconnect with family and friends while you relax over a cup of Fairmont curated specialty tea and nibble on freshly baked scones, signature tea sandwiches, and delectable desserts.
This offer is available Sunday through Thursday.
Offer Includes
Luxury Accommodations Sunday through Thursday
Afternoon Tea or Prince & Princess Tea (children under 12) for each occupant Sunday through Thursday
Available
Between Tuesday, February 22, 2022 and Thursday, March 17, 2022
Enjoy These Top Things To Do in Ottawa
There is a vast array of things to do in Ottawa, and visiting in March is not an exception. This list is an excellent start if you are visiting Ottawa in March with your family or loved ones. Ottawa city council has approved a Valentine's Day do-over due to the protest/occupation in February. Come show Ottawa your love! 
If you want to make the most of your trip to Ottawa, consider a ToDoOntario getaway package. These packages contain cost savings, numerous unique activities, and accommodations for you and your loved ones. Use this little ToDo list to help you remember and plan the suggestions from this article.
Browse our current packages to get started planning a fun Ontario getaway. Also, keep an eye on our blog for more helpful Ontario travel tips.
Tag us at #ToDoOntario or #ToDoOttawa so we can see your photos and come along for the fun.