Did you know Toronto hosts over 27 million visitors annually? It's one of Canada's leading tourist destinations. It's also Canada's largest city.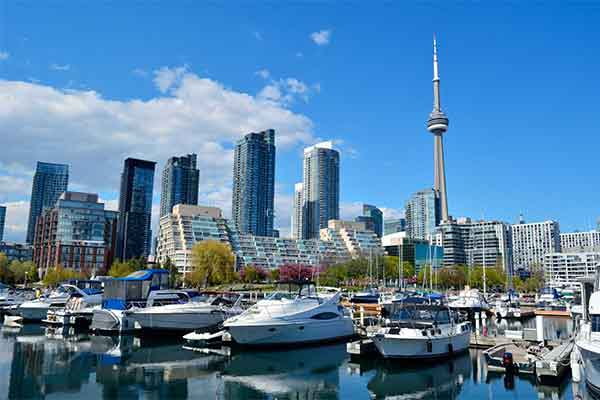 The list of things to do in Toronto is massive. Museums are freckled all throughout town, along with fine gardens, eclectic neighborhoods, and even a small span of islands! 
If you're wondering, "What can I do in Toronto?" the answer is a little bit of everything. Let's begin our journey with a few monumental landmarks. 
Ripley's Aquarium of Canada
Visit Ripley's Aquarium and immerse yourself in a world of 20000 aquatic animals and discover your own underwater adventure at Ripley's Aquarium of Canada! Ripley's currently offers timed visits, be sure to purchase your passes ahead of time to avoid disappointment. 
Click here to buy tickets to Ripley's Attractions and SAVE!
St. Lawrence Market
When in Paris, you stroll the many outdoor markets. When in Seattle, you go to Pike Place Market. But, if you're looking for tourist activities to do in Toronto, you stop by St. Lawrence Market. 
There are dozens of food stalls brimming with produce, meats, cheeses, and artisan crafts. If you have time for a date night, you can even enroll in a cooking class at The Market Kitchen. Of course, that will include shopping in the famous market for your items. 
Although the focus is mainly on the food, the building itself is quite special, too. It was built in 1902, as part of the Old City Hall. This will be a memorable stroll, whether you're just passing through or planning a special meal. 
High Park
If you have a mind to pack a picnic basket from St. Lawrence Market, then take it over to High Park once you're loaded up. This is Toronto's largest public park with a whopping 400 acres! There are manicured lawns all throughout and several themed gardens. 
Kind of like New York's Central Park, there's also a zoo inside and ice skating rinks. There are dog runs, too. So, if you're traveling with your fine furry friend, this will be a memorable afternoon for him or her, as well. 
Casa Loma
After you've wined and dined on the finest charcuterie board in the largest park, head on over to Casa Loma. It's a 20th century Gothic Revival castle chock full of character. 
Although it was opened as a private residence in 1914, it's been a museum since 1937. Not only will the interior wow you, but so will the stables and gardens. 
When you plan a Toronto trip, the main idea is to escape from everyday life, right? Casa Loma will sweep you nearly a hundred years away into a most glorious time.  
CN Tower
CN Tower is one of the top Toronto tourist attractions. It's what the Space Needle is to Seattle or the Empire State Building is to New York. Without question, it's Toronto's most famous landmark that towers over downtown. 
When you reach the top, it allows an expansive view of the city that you can't find anywhere else. Of course, you should only consider this if you don't have an aversion to heights. The CN Tower clocks in at over 1,800 feet (or 553 meters). 
If you plan accordingly and climb to the top on a clear day, you'll be able to see out as far as Niagara Falls and New York State. The secret spot for that is all the way up at the top in the Sky Pod. 
Below that, however, is the Glass Floor. It takes a few moments to adjust. But, when you step out, you'll have a unique bird's eye view over the city. 
Bata Shoe Museum
In a bustling metropolis, there are many museum options. But, for something a little more quirky and fun, check out the Bata Shoe Museum. 
Sonja Bata was an architect who became an influential businesswoman. When she traveled the world, she didn't collect postcards or earrings; she bought shoes wherever she went. (Imagine what her trips to Italy must have looked like!) 
Today, you'll find over 13,000 shoes and related objects. If you're a fashionista, this is an absolute must. A pair of Marilyn Monroe's red stilettos are on display right alongside a pair of Queen Victoria's silk slippers! We can never decide which pair is more enthralling.
Kensington Market
This isn't another market. Rather, it's a specific neighborhood that tourists need to travel through. In many ways, it's the heart of Toronto tourism. 
What you'll find is a wide array of multicultural shops and restaurants to dip in and out of. For over a century, immigrants from all over the world, including Africa, Central America, Ireland, and Scotland have been making this neighborhood their home. 
With such a fine, eclectic mix, the end result is a fascinating tour through many different cultures all within a few blocks. 
Toronto Islands
Finally, after the hustle and bustle of Kensington Market, you should take some time to check out a quiet expanse of pristine land. These islands are one of the best family things to do in Toronto.
Indeed, Toronto Islands are an 820-acre marvel. No cars are allowed! You might bump into one of the approximately 600 residents. But, by and large, you'll be in good company with fellow day-trippers who are seeking out some peace and solitude. 
There are lovely beaches, parks, gardens, and yacht clubs to stroll through. There are also quaint coffee shops to laze the afternoon away. If the weather's right, this is also one of our favorite places to launch a kayak. 
CLICK HERE FOR FAIRMONT ROYAL YORK ACCOMMODATIONS
The Best Things to Do in Toronto
With so many things to offer, this list is just a small slice of the Toronto pie. However, it's a well-rounded compilation of things to do in Toronto because you'll enjoy a little bit of fresh air, the museum experience, and a full-fledged multi-cultural affair. 
If you'd like to partake in one of the many ongoing events in this lovely corner of the world, come explore our Events and Activities page. From couples' events, to fall harvests, to holiday light drives, we'll take you through all the ins and outs of this robust city.