Things To Do Father's Day For All Kinds Of Dads
Ontario Dads are pretty special. They do an amazing job at teaching their children not only all the fun things to do in Ontario, but how to enjoy them like a kid. Ontario offers all kinds of activities that fathers love and love to teach their kids. 
Spending time with Dad on father's day weekend is always quality time. Spending the day with your father and doing something dad loves is a wonderful way to show your appreciation for everything he does. Summer-like weather means there are plenty of things to do in Ontario on Father's Day. 
Perhaps plan a hike, or fishing outing. Now that patios are open again, maybe you can go out and get a bite to eat. Definitely make some reservations no matter what you choose to do. 
If you're staying home maybe you can plan an outside bonfire and watch his favourite movie outside with popcorn and snacks. If you have a bonfire, make sure you make the ToDoOntario Dessert Cones!
During the day a bike ride with a snack stop could be a fun way to spend the day. Don't let a little rain stop you, either. Sometimes a small change in the normal can bring some extra special surprises.
Make sure to take photos!
Father's Day Gift Ideas
If you're looking to get something special for your dad this year, here are a few fathers day ideas that are getaway packages or experiences you can send Dad out to do, or do together. 
SPA TIME FOR DAD AT THE BEERSPA

The new BeerSpa in Downtown Torrence has so many things Dads love. Craft beer, food, woods, pools, saunas, food truck and more! Open for day trips and overnight getaways, this Muskoka BeerSpa is so cool, we know your Dad will love it, a lot.
Learn More About Muskoka BeerSpa
---
SPA TIME FOR DAD AT A HYDROSPA
Let Dad go and soak or steam his tress away at either of these new awesome Ontario hydrospas.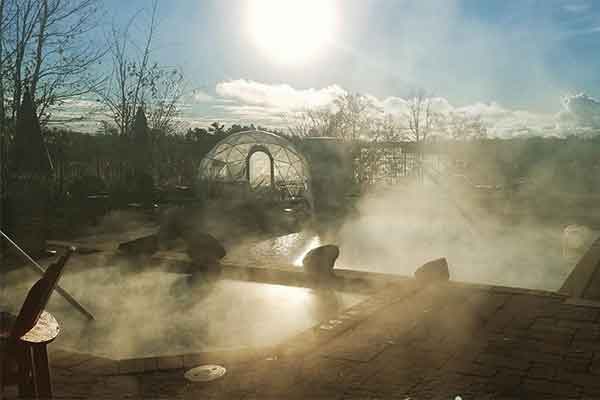 Hydrospa Wellness by Water Muskoka
Book Now

Vetta Nordic Spa
Book Now
---
BUY HIM TICKETS TO LIVE MUSIC
Saturday June 18 at the Roxy Theatre in Owen Sound you can send, or if old enough, take your day to see Practically Hip. 
Where: Owen Sound
More information: Practically Hip @ Roxy Theatre
If you're looking for more live music festivals, visit our blog section and read the list of festivals back for 2022.
---
SEND DAD ON A FISHING TRIP
For a night, for a weekend, for a whole week, send Dad off to recharge his batteries on an Ontario fishing trip. 
View Fishing Getaway Packages
---
BIKING & BREWERY EXPERIENCE FOR DAD
With this experience your dad can cycle to Quayle's Brewery either on an easier route that is mostly rail trail bike path or take a more challenging route on the quiet roads of Severn and Oro-Medonte townships. The ride is a supported, self-guided ride with lunch & beer tasting and shuttle back to start.
Learn More About Quest For Quayles
---
RELAX AND CRUISE GEORGIAN BAY
Any Dad would love to join Island Queen Cruises as they cruise through the inner islands of the Big Sound, an area many locals consider to be home to some of the most beautiful islands and channels on the Bay, including the famous Hole in the Wall! This non-stop two-hour morning cruise is the cruise that started it all. 
Learn More About Island Queen Cruises
---
Or head to Muskoka for lake cruise board Peerless II. Captain Pott's stories of local history and interesting facts make this cruise extra special. Sunset Cruises in Port has a schedule all week long for you and Dad to sit back and relax for this really cool cruise.
See Cruise Schedule
---
FORE THE LOVE OF DADS
Ontario has no shortage of beautiful golf courses and driving ranges. Buy your father a gift certificate to enjoy a course he loves or even a new one to try! 
View Ontario Golf Courses
---
Climb Like A Kid Again Canopy Tours & Treetop Trekking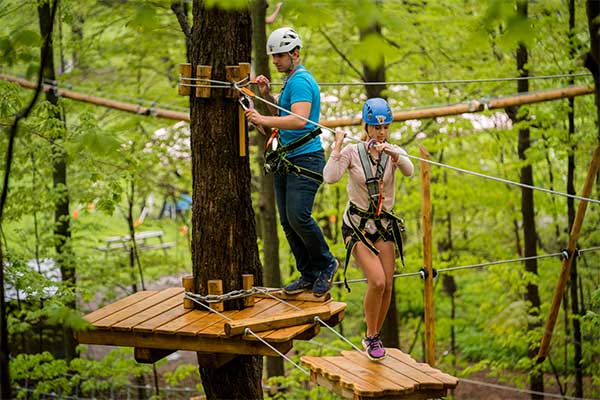 In the treetops or on a zip line are a great way to have fun and make memories with Dad. Ontario has some pretty cool canopy tours and activities that will have your dad feeling like a kid again. 
Haliburton Forest Canopy Tours
Ontario Treetop Trekking locations
---
PLAY IN THE BLUE MOUNTAINS OF ONTARIO
Enjoy the great outdoors at Blue, ride the attractions on the mountain or shop and dine at Blue Mountain Village. 
Blue Mountain Village
Blue Mountain Resort
Does your dad like caving, hiking and incredible views? Scenic Caves Nature Adventures is a great place to explore the caves AND check out the view from the 420ft suspension bridge.
Explore Scenic Caves
You can also book Dad a private tour with Blue Mountain Adventure Tours, they'll make sure your father has the best day ever, and no stress. 
Private Blue Mountains Tour
---
EXPLORE CAVES & SCENIC VIEWS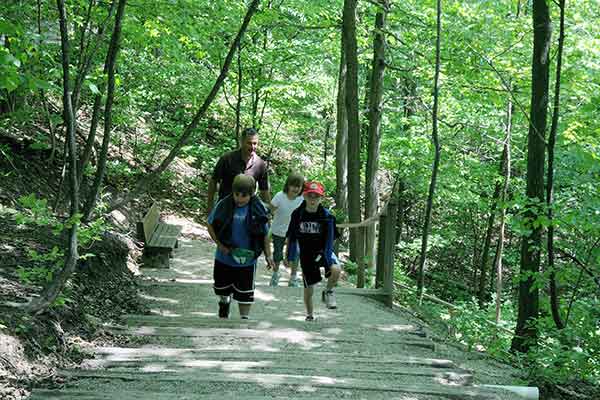 Explore caves with Dad and take in picturesque views of The Blue Mountains and Collingwood. Situated within one of Canada's eighteen UNESCO biosphere reserves and dating back 450 million years, our location is steeped rich in history and heritage.    Explore new heights from the longest Suspension Bridge in Southern Ontario, or take in our Hiking Trail Centre offering 15 kilometers of trails meandering through 370 unspoiled acres of natural beauty. Experience the unique views of the 200 year old forest, with well-marked trails offering gentle rolling slopes to steep climbs, and expansive, world class views!  
Learn More
---
TAKE DAD OUT FOR LUNCH OR A TREAT, ORDER HIM MAPLE SYRUP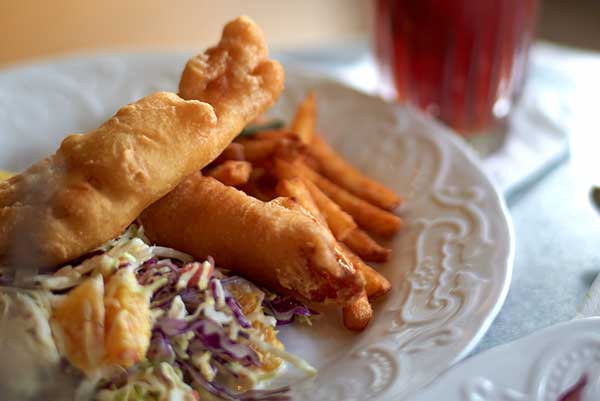 Find a fun spot for a road trip near you and take your dad out for summer fish and chips or (and?) ice cream! Read out past blogs to easily find a place to try if you're looking for something new.
If you're 19+, read our blog about tips for visiting microbreweries in Ontario and have fun (safely) with Dad exploring some Ontario craft beers. The blog section contains YOUR list of favourite Ontario fish and chips places and also YOUR favourite Ontario ice cream shops. Does he love all things maple? Order him some Ontario maple syrup or maple products and have them shipped right to him. 
---
SEND DAD TO FORAGE FOR MUSHROOMS
This immersive wilderness learning experience will bring your dad into the forest with a single delicious goal in mind: how to find, identify, and harvest wild edible mushrooms! This isn't for every dad, but for those who love nature, being the woods and learning about Ontario's wilderness, this is for him! 
Book Dad's Mushroom Foraging Workshop
---
SET DAD OUT ON A FOOD TOUR ADVENTURE

Experience one of the best culinary tours in the heart of Georgian Bay. Join the thousands of Simcoe County residents, Toronto day-trippers and international visitors who have discovered the area's history, culture, architecture and delicious food hotspots.
Learn More
---
TAKE A HIKE, DAD!
We've all done a ton of hiking since the pandemic but this guided hike in Haliburton is extra special. Sign your father up to join a knowledgeable hiking guide for a 2-3 hour hike around the Barnum Creek Nature Reserve, learning about everything the region has to offer, and the rich history and stories of the area. 
Book Dad a Hike
---
There are so many great things to get dads or do with dads this year. Check out the ToDoOntario Events Calendar for events and experiences your dad might like and our list of summer getaway packages for more inspirational gift ideas.