Exploring Things To Do in Toronto & the GTA
TORONTO AT A GLANCE
Canada's largest city, and the fourth-largest in North America, Toronto is a global business, entertainment and tourism hub, famous for its progressiveness and diversity.
ONLY IN TORONTO
For that only-in-Toronto experience, here are some famous places to find the essence of Toronto's past and present.
Taste a peameal bacon sandwich (with honey mustard) and a butter tart at the 200-year-old St. Lawrence Market.
Ride the 501 "Red Rocket" streetcar along Queen Street from The Beaches in the east to the west end, through the heart of downtown and passing through the eclectic neighbourhoods of Leslieville, Riverside, Queen West, West Queen West, Parkdale and Roncesvalles along the way.
Take the ferry to the Toronto Islands for a day in the parks and on the beaches – a piece of calm outside the hustle and bustle of the city. Refreshing signs read "Please walk on the grass."
Catch live music at one of Toronto's legendary music venues such as the Horseshoe Tavern (where the Rolling Stones have played many surprise concerts), The Rex (for live jazz) or the iconic Massey Hall.
Wander the eclectic and bohemian Kensington Market for vintage finds, organic coffee, tacos, Jamaican patties, gourmet cheese shops, green grocers and Indian spices.
Experience the highs and lows of Toronto – from the CN Tower's Skypod observation deck at 447 meters (135 stories) up, down to the underground PATH system connecting downtown's office towers with a 27-km network and over 1,200 shops and restaurants.
Stroll along the highest sidewalk at the CN Tower's Edgewalk.
Visit the Art Gallery of Ontario's premier collections of Canadian art featuring the famous Group of Seven.
Get lost in the crowds of Yonge-Dundas Square where the billboards and neon lights surround the swarms of people in Toronto's most famous intersection.
Cheer on the Toronto Maple Leafs at an Air Canada Centre hockey game. Absorb the Canadian game's history and touch the actual Stanley Cup at the Hockey Hall of Fame.
Skate under clear skies at Toronto's outdoor rinks: Nathan Phillips Square, the Natrel Rink at Harbourfront Centre or Mississauga Celebration Square.
Shop 'til you drop at the Eaton Centre and for designer wear at Bloor-Yorkville.
Eat your way around the world without leaving Toronto in Little Italy, Little Portugal, Greektown, Chinatown, Koreatown, and Little India, just to name a few.
As we build our base of Toronto and GTA Resources on this website, for more information to play your trip please also visit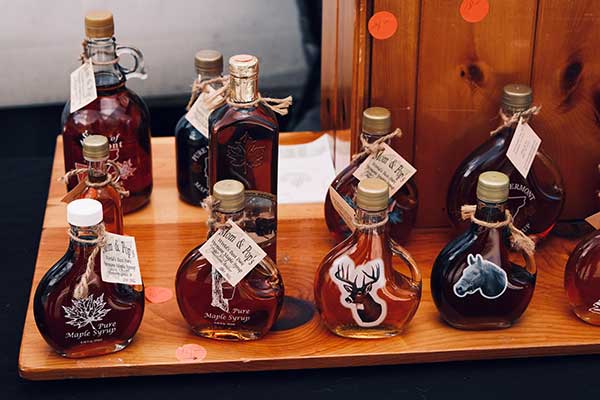 Well it seems another season of maple events and festivals will be affected due to the Coronavirus. While some markets and grocery stores sell Ontario-made maple syrup, did you know you can also order lots of delicious sweet maple products online and have them delivered to your home?  In these times of sticking close to
Toronto & Greater Toronto Area