2022 Maple Syrup Season in Ontario
You have landed on the ultimate ToDo list of maple syrup festivals, events and sugar shack activities in Ontario. 
Ontario Maple Experiences, Events & Festivals Round Up
Get your maple on at or doing the following sweet maple things to do.
Tap into Maple
Ontario's Lake Country – March 4 – April 3, 2022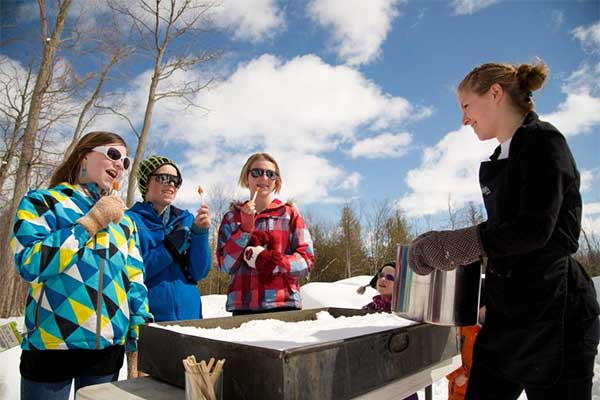 Between March and April, take the self-tour through lesser-traveled routes to working sugar shacks that offer a first hand view of the maple syrup process, from harvesting and boiling to enjoying.
Learn More
---
Maple Weekend – Simcoe & District
April 2 – 3, 2022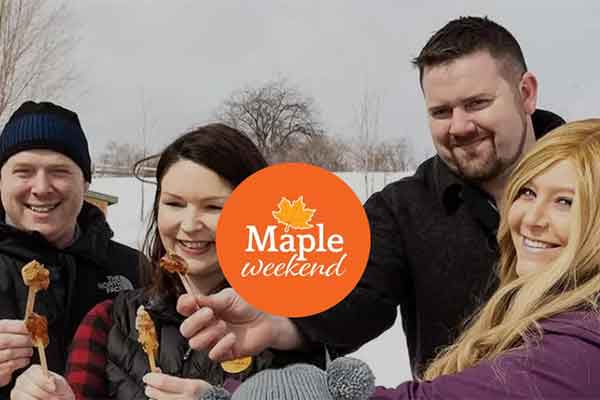 Visit Ontario syrup producers in Simcoe & District region of Ontario. 
Learn More
---
Maple at the Cranberry Farm 
March 12 – April 23, 2022
Bog to Bottle Tour: During sugaring-off season, the Bog to Bottle Tour (daily at 11, 1 & 3) will fuse Muskoka's two iconic crops by combining tart cranberries with sweet maple syrup! Tour the cranberry bog on your way to the sugar bush. 
Maple Menu: During maple season, unique maple flavours will be featured. 
Trail Pass: Depending on the weather, snowshoe or hike to the sugar bush. Finish in the store with a sampling of Red Maple Dessert Wine.
Save these Dates:
Muskoka Maple Trail: Make a stop here on your tour and enjoy a host of maple inspired tastes and tales.
Maple Weekend: The first weekend of April is an Ontario-wide celebration of maple syrup. 
---
Various Maple Experiences in Haliburton
Yours Outdoors, Haliburton Highlands 
Hop on a maple experience tour with Yours Outdoors in Haliburton. Choose from the following fun and single, couple or family friendly tours/experiences.
Maple Slurp at Haliburton Forest
Hike through the trails of Haliburton Forest with a guide; following the lines of tapped trees right to the sugar shack. 
Learn More
---
The Esson Creek Maple Experience
Come for your very own Maple Experience at this modern, family run maple syrup operation and mineral tour company near Wilberforce.
Learn More
---
The Art & Syrup of Maple
Experience the world of the maple tree and its bounty with this "sweet" one day adventure in the Haliburton Highlands.
Learn More
---
Deerhurst's Maple Sugar Shack & Discovery Trail
DEERHURST'S MAPLE DISCOVERY TRAIL 
How Many Fun Facts About Maple Syrup Can You Find? 
Daily March 12 – May 1, 2022
Available for resort guests. Feel free to explore the trail even when the Sugar Shack is not open. 
Starting March Break through April, Deerhurst Resort celebrates the sugaring season in Muskoka with it's fun-filled Maple Discovery Trail leading to the resort's very own sugar shack. Make your way along an interpretative trail leading from the sugar bush pump house at the bottom of the hill, up through the maple woods to the Deerhurst Sugar Shack at the top.
Along the way guests can follow the story of how maple syrup is made, gather 'Fun Facts' to answer our Maple Syrup quiz (pick one up at the Activity Desk or Winter Sports Shop) then enjoy a sweet maple treat at the sugar shack around the campfire at the times below!
MAPLE SYRUP CULINARY CREATIONS 
This is also the time of year, Executive Chef, Rory Golden, who has championed the Deerhurst Maple Sugar Shack for almost 30 years, delights with delectable maple specials. (Why not forgo the usual pancakes and try the Maple Breakfast Poutine, or order a Maple Dessert Tasting for a heavenly trio of desserts!)
Check Out the Maple Specials at Eclipse Restaurant Here!
In the meantime, here's how to make Deerhurst's delicious Maple Breakfast Poutine! 
DEERHURST MAPLE SUGAR SHACK EXPERIENCE
Includes syrup making demonstrations and a sweet maple treat by the campfire:
March Break (March 12 – 19, 2022): Daily 1 – 3pm 
March 20 to May 1, 2022: Saturdays & Sundays 1 – 3pm
Easter Weekend (April 15 – 17, 2022): Daily 1 – 3pm 
(For resort guests only. No reservations; first come first serve. Subject to current provincial gathering restrictions. Please respect social distancing and wear a mask at the sugar shack.)
The Maple Discover Trail brings you to the Deerhurst Maple Sugar Shack (which you can also drive to), where guests can step into the past to witness the old-fashioned spile and bucket method of collecting sap, learn the history of making syrup, see how a modern evaporator works and best of all, taste a sample of delicious warm syrup created right there.  Return back via the Maple Discovery Trail, or continue up to the Lookout Trail for more incredible resort views!
Learn More
---
Sweetwater Harvest Festival 
Wye Marsh, Midland – March 19 & 20, March 26 & 27, April 2 & 3, 2022
The festival celebrates the history of maple syrup, and the role it plays in our cultural and natural heritage. 
Learn More
---
Maple Festivals in Ontario near you
Ontario Maple Weekend (Across Ontario)
April 2/3, 2022
Spring Tonic Maple Syrup Festival (Barrie)
2022 TBA
Elmvale Maple Syrup Festival 
No 2022 Festival (Returning April 29, 2023)
Pefferlaw Creek Farms 2022 Maple Weekends 
Weekends starting March 19/20 – April 9/10, 2022
Proulx Farm Maple Fest (Cumberland)
February 27 – April 18, 2022
Holstein Maple Syrup Festival 
Holstein
2022 TBA
Wintergreen Maple Syrup & Pancake Barn
March & April weekends, 2022
Festival of the Maples (Perth)
April 2/3, 2022
Maple at the Village (Toronto)
March 14 – 18, 2022
Muskoka Maple Festival (Huntsville)
April 30, 2022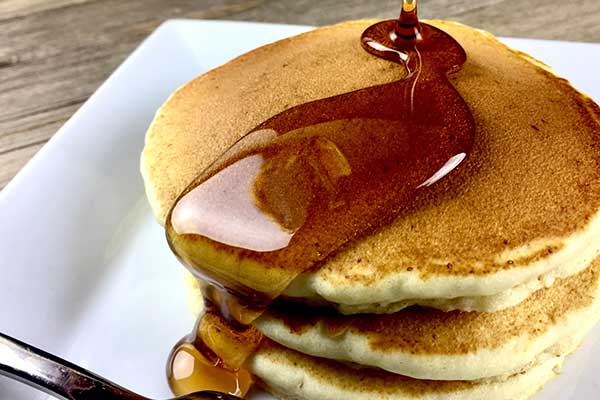 Ontario Loves Maple Syrup Festival cont'd
Wheelers Maple Harvest Season (Lanark Highlands)
February, March & April hours, 2022
Sunderland Maple Syrup Festival
April 2 – 3, 2022
Warkworth Maple Syrup Festival
2022 Cancelled
Maple Madness (Little Cataraqui Creek Conservation Area)
March Weekends + March Break, 2022
Muskoka Maple Festival (Huntsville)
April 30, 2022
Powassan Maple Syrup Festival 
2022 TBA
Sugar Bush Maple Syrup Festival (Terra Cotta Conservation Area)
March 12 – April 10, 2022
Brooks Farms Maple Sugar Festival (Mount Albert)
March 5, 2022
Maple Syrup Tours on the Farm (Stouffville)
March 15 – 26, 2022
Wiarton Rotary Maple Magic
March 19/20 26/27, 2022
Taste the Countryside (Waterloo region)
March 2022
---
Maple Sugar Shacks To Tour & Visit

Fulton's Maple Farm Trails & Maple Shop (Pakenham)
Lalonde's Maple Bush Tours (Elmvale)
Mark's Muskoka Maple House (Huntsville)
Shaw's Sugar Bush (Orillia)
Stanley's Olde Maple Lane Farm (Edwards)
Steamy Kettle Sugar Bush (Barrie)
Wheeler's Maple Syrup Pancake House (Lanark Highlands)
Temple's Sugar Bush (Lanark)
Wintergreen Maple Syrup & Pancake Barn (Minden)
McLachlan Family Maple Syrup & Pancake House (Komoka)
Proulx Farm Sugar Bush (Cumberland)
Brooks Farms Market Cafe & Playland Maple Sugar Bush (Mount Albert)
Maple Town (Campbellville)
Sugar Bush at the Log Farm (Nepean)
Purple Woods Maple Syrup Self Guided Hike (Oshawa)
Self Guided Sugar Bush Tour & Family Maple Experience (Dunnville)
---
The Sweetest Ontario Maple Getaway Offers 
---
Maple Syrup Facts
Maple Syrup is one of Canada's 4M's that goes with Canada's Moose, Mountains and Muskies! Ontario has more Maple Syrup production than most other provinces.
Maple Syrup Health Facts
The most important information you need to know is that maple syrup is good for you (within reason of course). Over 50 beneficial compounds are found in maple syrup.
If you're looking to buy Ontario maple syrup >>these producers offer online ordering and shipping<<