Traditional Fall Fairs Across Ontario
Coloured leaves, crisp air and pumpkins everywhere! If you're sipping on pumpkin spice latte, it might be time to get yourself to an Ontario fall festival. 
The CNE in Toronto is back! Check out the Ontario Festivals Returning in 2022 to see festivals in other seasons to attend. 
---
Traditional fall events include agriculture competitions, demolition derbies, live music and of course, the carnival rides, food vendors and games. From September to October, you can celebrate Ontario's fall harvest season anywhere in Ontario.
The list below is a great start to finding a fall fair or festival perfect for any day trip or to attend while on a weekend away. You might attend a fall fair near you as a tradition or take a small road trip and experience something new.
Fall is a perfect time to enjoy a road trip in Ontario while the fall colour show is on display. 
Featured Ontario Fall Festivals
Sunflower Experience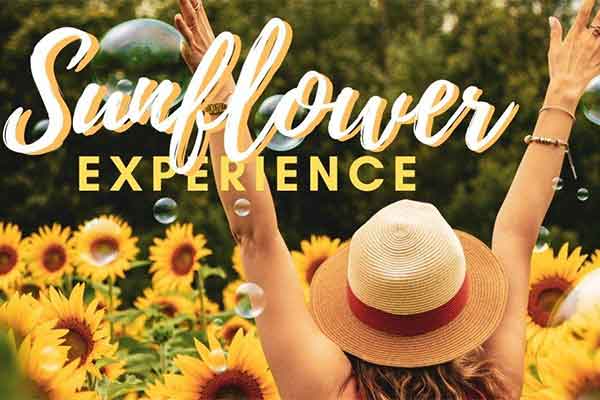 Rounds Ranch, Elmvale
July 29 – September 5, 2022
Enjoy a safe, outdoor farm experience in the midst of stunning sunflowers and gorgeous cut flowers.
Learn More
---
Pumpkin Mania
Rounds Ranch, Elmvale
September 17 – October 30, 2022 (weekends)
You can take your family to Rounds Ranch to get in the spirit of Fall during our Pumpkin Mania Festival! Enjoy wagon rides, goofy pumpkin-themed games, corn mazes, farm animals and our Western Playground! Each Guest will visit our large pumpkin patch and pick their own pumpkin to take home. 
---
Flashlight Corn Maze
Rounds Ranch, Elmvale
Saturday nights in October 2022
Can you solve our interactive maze puzzle to find the secret…in the dark? Bring your flashlight and try to navigate your way through the twists and turns. Try not to get lost! 
The Flashlight Corn Maze package also includes a Campfire! Come early to enjoy a wagon ride out to the patch and PYO pumpkin ANY size!
---
Apple Harvest Festival
Blue Mountain Village
October 8 – 10, 2022
There's no better way to enjoy Thanksgiving weekend and the fall colours at Blue Mountain, Clarksburg and Thornbury.  Free family activities, live music, Apple Pie Trail, adventures, stilt walkers, hiking, biking and fall driving tours.
---
Fall Festival @ the Gardens
Abbey Gardens, Haliburton
October 15, 2022
Decorate Halloween cookies, make pumpkin crafts, take fall photos in our photo booth, and check out our Harvest Midway for inflatable fun. Wagon rides out to the pumpkin patch run throughout the Festival! Simply hop on at the trailhead and enjoy the ride out to our NEW patch. Search the gardens for clues to solve the Fall Festival puzzle for your chance to win a special prize in a fun scavenger hunt.
Learn More
---
Sugar Plum Fair Craft Show & Sale
Nottawasaga Inn Resort, Alliston
November 12 & 13, 2022
Thinking it's time to get a jumpstart on Christmas shopping? If you're not ready to face the big box stores this year we may have the solution you're looking for. Discover a spectacular line-up of crafters who feature a unique line-up of handmade items.
---
Bruce Peninsula, Southern Georgian Bay and Lake Simcoe
Tiverton Fair, September 30 – October 2, 2022 
Apple Harvest Craft Show, Meaford October 1 & 2, 2022
Owen Sound Fair, September 8 & 10, 2022
Beeton Fall Fair, September 16- 18, 2022 
Thanksgiving Harvest Festival, October 8 & 9, 2022
Orillia Fair, September 10, 2022 
Oro Fair, September 16 & 17, 2022
Ramona Fall Fair, September 16 & 17, 2022
Coldwater Fair & Demolition Derby, September 23 – 25, 2022
Great Northern Exhibition, September 23 – 25, 2022
Elmvale Fall Fair, October 7 – 8, 2022
Blue Mountains Apple Harvest Festival, October 7 – 8, 2022
---
Haliburton Highlands to the Ottawa Valley
Carp Fall Fair, September 22 – 25, 2022
Perth Fair, September 2 – 5, 2022
Renfrew Fall Fair, September 8 – 11, 2022
---
Kawarthas Northumberland
Kinmount Fair, September 2, 3, 4, 2022
Lindsay Central Exhibition, September 17 – 25, 2022
Bobcaygeon Fall Fair, September 29 – October 1, 2022
Norwood Fair, October 8 – 10, 2022
---
Algonquin Park, Almaguin Highlands, Muskoka and Parry Sound
Rosseau Fall Fair, August 27, 2022
Severn Bridge Fair, September 10, 2022
Bracebridge Fair & Horse Show, September 16 – 18, 2022
Huntsville Fall Fair, September 23 – 25, 2022
Bala Cranberry Festival, October 15 – 17, 2022
Dorset Thanksgiving Arts, Crafts & Antiques Show, 2022 TBA
---
Northern Ontario
Hymers Fall Fair, September 4 & 5, 2022
---
Niagara & Norfolk County
Norfolk County Fair, October 4 – 10, 2022
---
Southeastern Ontario
Big River Classic Country Festival, September 10 – 11, 2022
Westporch Fest 2022, September 17, 2022
Lyndhurst Turkey Fair, September 17, 2022
Plowing Match & Rural Expo, September 20 – 24, 2022
Delta Harvest Festival, September 24, 2022
1860's Fall Fair Weekend & Quilt Show, September 24, 2022
---
Southwestern Ontario
Western Fair, September 9 – 18, 2022
Brooke-Alvinston & Watford Fall Fair, September 30 – October 2
Plympton Wyoming Fall Fair, September 16 – 17
Forest Fall Fair, September 23 – 25
Brigden Fair, October 7 – 10
---
More Fall Activity Ideas