Ontario's Best Winter Activities to Try This Year
We are your go-to guides for all things fun and safe in Ontario. Finding the best pandemic friendly activities to do in Ontario is our job, and we are good at it.
This makes it a lot easier for you to enjoy yourself without having to think about what to do next. Whether you want to enjoy a safe romantic getaway with your partner, spend a weekend in Ontario with friends, or are looking for a great adventure with the whole family, we got you covered!
Spend your winter in Ontario and let us show you Ontario's best winter activities to try this year so you and your group can have some serious fun while visiting. Check out this winter activities video by friends at Ogopogo Resort in Minden. It will give you an idea about how you can safely go resorting this winter and toboggan, ice skate, cross country ski, ice fish or more! 
Find Winter Getaway Package
---
Ice Fishing
Ice fishing dates way back over 2000 years ago when early Native Americans speared fish through holes in the ice. While this way of fishing in the winter has changed a lot since then, the concept is still the same; we still make a hole in the ice to fish through. Enjoy spending quality time with family or friends while ice fishing during the winter in Ontario surrounded by a bed of fresh white snow. It's a great way to embrace the winter months and a unique way to have fun.
Find a great package for you or your family now!
Book Now
---
Snowshoeing 
Take a load off during a cool weather excursion and have some real winter fun Snowshoeing. This fun-filled winter sport involves wearing snowshoes to walk through thick snowy trails while enjoying the fantastic outdoors. There are plenty of high-altitude trails to explore and snowshoeing is ideal for the whole family. It is the perfect alternative to snowboarding or skiing and a fantastic way to stay active. What began years ago as a way of transport, has evolved into a recreational fun activity for adventure seekers of all ages. 
Explore Packages
---
Downhill Skiing
Are you eager to ride the lifts this winter or hike up an icy mountain to hit the slopes? Whether you are a recreational skier who enjoys skiing down giant mountain slopes at top speeds or a competitive skier who is always looking for skiing competitions to show off your skills, you will love downhill skiing. Even if you are just starting out, most resorts offer lessons for beginners that can have you skiing like a pro in no time. They also rent out the gear you need, such as skis, boots, bindings, and poles.
New innovations have made improvements to skis that make skiing far easier than ever before. With shorter boards and more aggressive side cuts, it is easier to handle groomed runs, turn easier, and ski over bumps.
Explore Packages
---
Cross-Country Skiing
Also known as "Nordic skiing", Cross-country skiing is basically done on tracks and groomed trails. The type of skiing you do is determined by your skis. If they run parallel, they are designed for traditional XC skiing. However, if they are angled — in a herringbone pattern — they are designated for skating.
There are many cross-country ski areas that allow you to take in the beautiful sites that surround you while gliding down low-altitude trails during winter day trips. Whether you are a beginner ready to head down a blue area trail, an intermediate going for the red, or an expert ready to take on the black rated trails, you will enjoy being the first one to break through the freshly laid out white blanket of snow ahead.  
Plan your winter day trip today!
Explore Packages
Traditional Style Cross-Country Skiing
This skiing style is the most popular for winter getaways and uses a technique like walking only you will be gliding down groomed trails and tracks. The equipment for cross-country skiing consists of a ski boot and a binding combo that are low maintenance. So get your skis on and discover the beauty of a peaceful forest in the winter.  
Skate Style Cross-Country Skiing
This style of cross-country skiing is for those who favor life in the fast lane as the right equipment and good technique could have you soaring down steep sections of the trail at speeds more than 19mph.
Backcountry Cross Country Skiing
If you are looking for freedom to go off the track and venture out into vast forests and open fields, then backcountry XC skiing is your cup of tea. The skis designed for this style of cross-country skiing are lightweight, constructed with metal edges, and specifically made to handle various terrains. They are excellent for both fresh powdery snow and for deep impacted snow. Grab yourself some boots, backcountry skis, and bindings, and head on out to the lower mountain ranges for the coolest adventure of your life.  
---
Ice Skating
Ice skating is a winter activity that everyone can enjoy, once you get the hang of it. It's extremely fun when on an ice trail, a pond or a professional rink and is something both young and old people can do, and do together. Read our BEST PLACES TO ICE SKATE blog and find a place to glide, play hockey or just spin around! 
---
Winter Holiday Dates In Ontario
Holidays and long weekends are a great opportunity to travel within Ontario. Find a great package that includes one or more seasonal activities to get your bubble people loving winter. Use the following winter holidays in Ontario to book your next vacation.
Christmas Getaway Packages (December)
New Year's Eve Getaway Packages (December)
Family Day Getaway Getaway (February)
March Break Getaways (March)
Let This Be the Year for a Great Ontario Winter Getaway, Please!
Don't put off a great adventurous vacation any longer. Visit our site to learn more about our exciting package plans available now. Find the perfect winter getaway package that includes the activity and/or the equipment you need to make it stress-free and fun. Sometimes a great winter experience getaway package is a great way to try a new sport or activity without too much preparation on your part. 
Book A Winter Getaway
Winter Driving Tips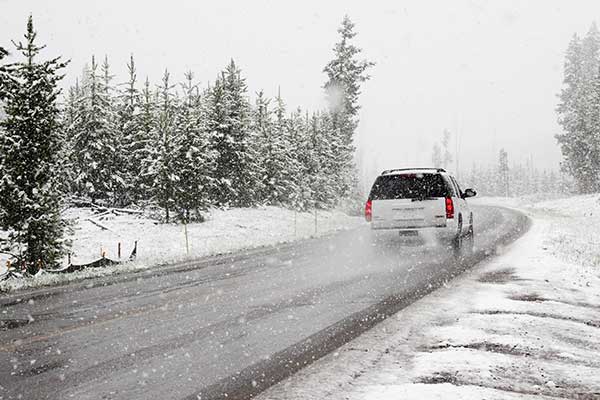 Even for the most experienced professional driving on winter roads in Ontario can be stressful and dangerous. Not every day is a driving day in winter but if you are heading out, read our helpful Ontario driving tips to help keep you safe and prepared in case of emergency. See what you need to put together to have a solid emergency road kit.