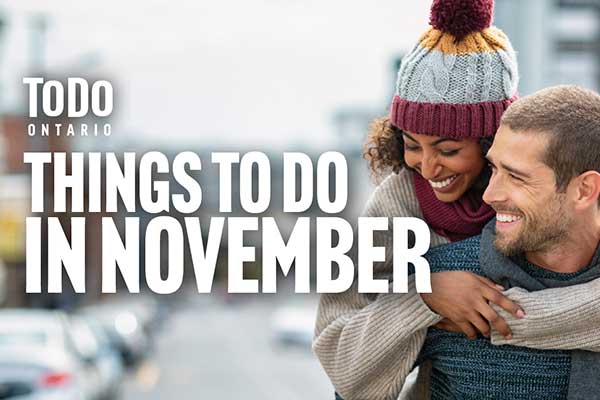 Although Ontario is popular because of Niagara Falls, it isn't the only reason why you need to explore Ontario in November. Read this article if you're looking for pre-holiday things to do — below are things to do in Ontario in November. 
Gather your family or a group of friends and have some fun in Ontario before the holiday season really gets going.
Get Enchanted at the Journey into Enchantment
Enjoy watching 2 million Christmas lights (including dancing lights) with your entire family and pets by driving through the https://journeyintoenchantment.ca/. Expect to see north pole lights, polar bears, moving flowers, 3D holiday displays and little elves. The good thing about this is that you get to enjoy this in the comfort of your own car. This event starts in November and ends on January 1st. 
Find more: Holiday Light events
Watch Wizard of Oz Live in a Theatre
Do you know where the yellow brick road is headed? It's headed to The King's Wharf Theatre! If you love Dorothy, Toto and the rest of the fascinating characters in Oz, don't hesitate to watch this and enjoy good music and dancing, and theatrical magic. Trust us, it won't disappoint. This is also an excellent choice if you have kids. It's an opportunity for your little ones to appreciate this classic. 
Shop With Style at Holiday Magic at Blue
How would you like to do your holiday shopping with colorful lights and decorations in the backdrop? You can stroll through 1 km of light trail at Holiday Magic at Blue. During the day, expect to see festive decorations and Christmas music and interactive light displays at night. When you shop or dine during weekends, you can see street performers or Santa roaming the village. Take your entire family with you; the little ones surely will appreciate the view. 
Visit Muskoka BeerSpa
Spend the weekend at the hot tub or while sipping your favorite beer at the Muskoka BeerSpa. And if you love campfires, then this is the place for you. It's open from Nov 1 to the 30th and guests can use the sauna, spa and hot tubs. The brewery is also open every day. 
Go to the Sugar Plum Fair Craft Show
What are you doing on November 12 and 13? Why not visit Nottawasaga Inn Resort and buy some handmade crafts? Over 100 exhibitors will be at the event and they will be selling items such as children's toys, ceramics, candles, fudge, chocolate, Christmas decorations and a lot more. 
Find more: Holiday Markets
Watch a British Comedy
You can't miss O Christmas Tea if you're into British comedy. Expect a lot of clever lines and wordplay at this event. If you're a fan of Mr. Bean and Dr. Seuss, then this is for you. The show runs from Nov 17 to Dec 23, 2022 in cities and towns across Ontario. 
Where are You Going First?
You'll be spoilt for choice in Ontario because you won't run out of things to do in Toronto this weekend. Feel free to try all our suggestions or contact us if you have questions.