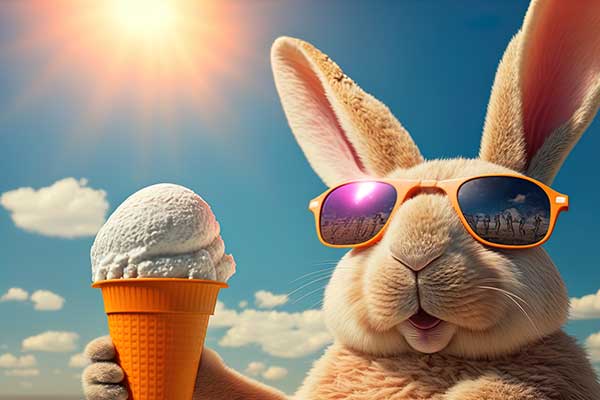 Are you looking for fun things to do Easter Weekend in Ontario? Whether celebrating with family or friends, there's plenty to see and do across the province. Ontario has something for everyone, from family gatherings to outdoor adventures and cultural experiences. This guide gives you ideas for making the most of your long weekend and celebrating Easter in style. Get ready to hop into the holiday spirit and explore all Ontario offers!
Stranger Things Experience at Cinespace Marine Terminal Studio
If you want a unique way to spend Easter Weekend in Ontario, immerse yourself in the world of Stranger Things at Cinespace Marine Terminal Studio. You'll feel as if you've stepped right into the hit Netflix show with this interactive experience.
When you enter the studio, you'll be transported to the fictional town of Hawkins, Indiana. Explore the sets from the show, including interactive performers, photo ops, food and drinks and merchandise.
Buy Tickets Now
Create Unforgettable Moments at Ripley's Aquarium of Canada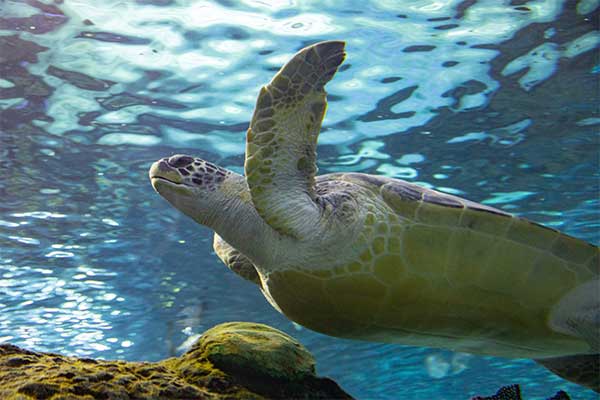 Things to do Easter weekend won't be complete without exploring Ripley's Aquarium of Canada. With various exhibits, attractions, and activities, there's something for everyone at this amazing aquatic wonderland.
The mesmerizing Stringray Experience is a must-see experience at Ripley's Aquarium of Canada. Step into a wonderful world as you face these graceful creatures in their natural habitat. They'll amaze you with their elegant movement and unique personalities as you learn more from the knowledgeable staff.
Buy Tickets Now
Enjoy the Office Experience at Yorkdale Shopping Centre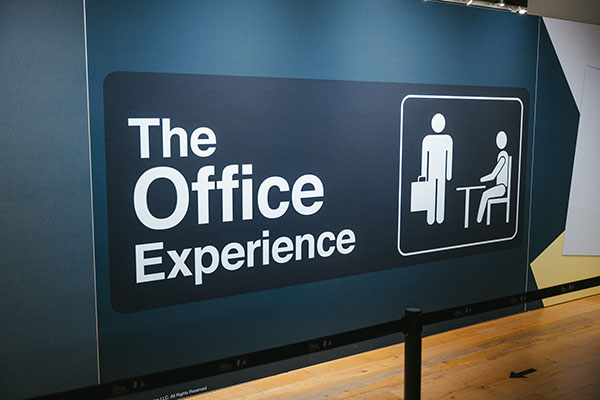 This immersive pop-up exhibit lets you step into the world of the beloved TV show and experience the iconic set, costumes and props up close and personal. While exploring the exhibit, expect to feel like part of the Dunder Mifflin team.
You can visit the various departments, snap a photo in front of the iconic signpost, and sit at Michael Scott's desk. Whether you're a die-hard fan of the show or looking for fun, the Office Experience at Yorkdale Shopping Centre will highlight your trip.
Buy Tickets Now
Break from Your Busy Life with Minden Spring Getaway
Take a trip to Minden and break from your busy life and unwind in the peaceful natural surroundings. Explore the stunning Minden Wild Water Preserve, which features rapids, waterfalls, and breathtaking scenery. You can take a leisurely hike, bike ride along the trails, or paddle on the river if you feel adventurous.
If you're interested in history, visit the Minden Hills Cultural Centre, which houses exhibits on the area's logging and mining industries. Explore the town's quaint shops and restaurants, or take a scenic drive through the countryside.
Easter Brunches at Deerhurst
Head over to Deerhurst Resort and indulge in their special Easter brunch menu. You'll enjoy a stunning view of the Muskoka landscape as you share a meal with your loved ones.  The chefs have created a special menu featuring classic Easter dishes and innovative options to tantalize your taste buds.
Book Now
Friday Harbour Easter Events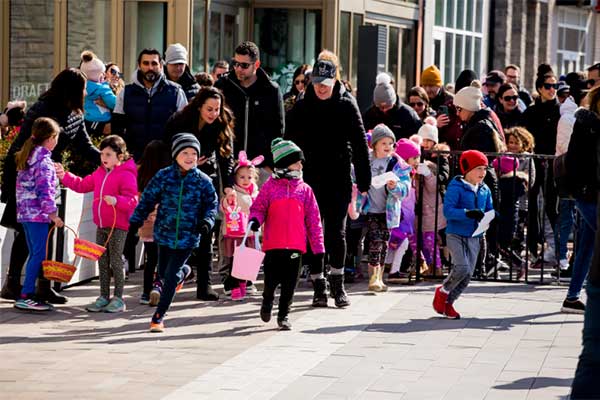 Throughout the weekend, Friday Harbour will host multiple Easter-themed events and activities for visitors of all ages. You can start your day with an Easter brunch at one of the many restaurants in the village and head out for an Easter egg hunt with your kids.
After the egg hunt, why not stroll along the boardwalk and enjoy the beautiful spring weather? There will be live music performances and arts and crafts workshops.
You can cap off your day in the evening with a delicious dinner at one of the village's upscale restaurants or enjoy a sunset cruise on Lake Simcoe. Whatever you choose to do, Friday Harbour is the perfect place to spend a relaxing and fun-filled Easter weekend with your family and loved ones.
Learn More
Head For the The Blue Mountains
Scenic Caves Nature Adventures and Blue Mountain Village are open and offer a ton of activities for the family. At Scenic Caves you can hike, snowshoe, play and take in the best Georgian Bay view from the 420′ Suspension Bridge. 
EASTER IN THE VILLAGE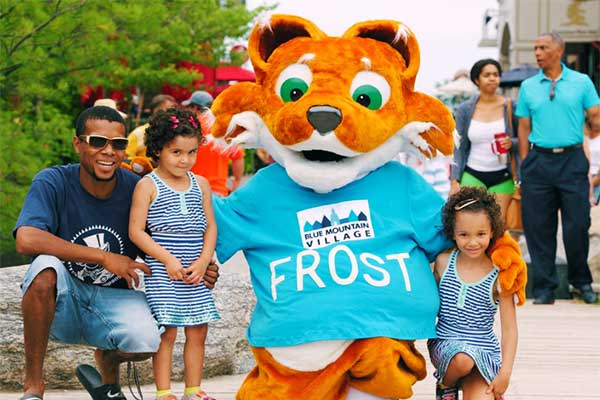 Celebrate Easter in Blue Mountain Village with scavenger hunts, horse and wagon rides, and more great family activities. Weather permitting, you can ski or snowboard and take in some fresh spring skiing before the ski season is over. 
Learn More
Experience The Splendour of Spring at Fairmont Royal York Hotel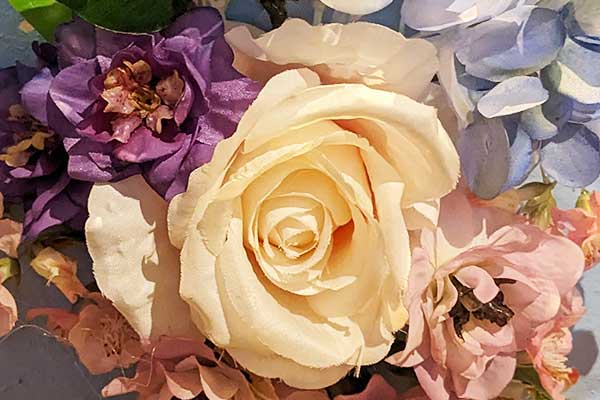 From elegant Afternoon Tea served under the glow of the clock to decadent buffet brunches served in REIGN's dining room, review RYH's offers for the month of April and Easter weekend. Or pop in the lobby while you're downtown Toronto and revel in the enchanting Easter egg. You won't be disappointed. 
Learn More
Continue to Keep MAPLE in Your Celebrations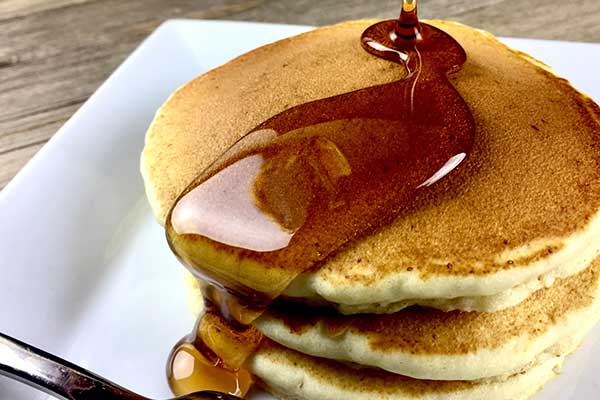 Get into the flow of maple season. Spring weather makes it easy to spend time exploring where maple syrup comes and how it's made. Mid-April continues to be a time to visit maple farms, taste Ontario maple syrup and have some sticky sweet fun. 
Whether it's a festival, a pancake breakfast or a maple infused menu, you can find it here, on the maple festivals and events page.
Make Your Day Memorable with these Things to Do Easter Weekend
Ontario offers various interesting activities and events to make your Easter weekend memorable. From the stunning natural beauty of Minden to the delicious Easter brunches at Deerhurst Resort, you can find multiple ways to enjoy the holiday with your loved ones. Why not take a break from your daily routine and spend this Easter weekend exploring all that Ontario has to offer?
more easter events
more easter getaways